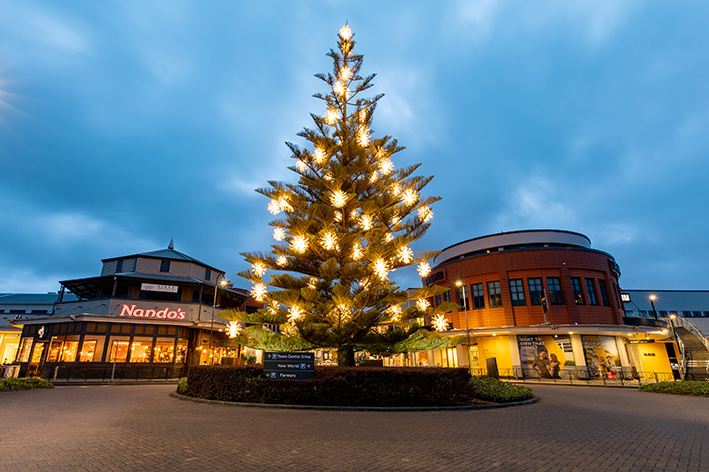 Susan Tapper is an expert at delivering cheer under pressure. When the director of Celebrations Group answers her phone to be interviewed for Roundabout Magazine, she's just walked in from finishing up a wild and woolly job.
"I was out moving sheep in a paddock," she explains, before effortlessly switching gears to talk business. Susan's skill at pivoting on a dime is just part of the magic behind Celebrations Group, New Zealand's largest and most established supplier and installer of Christmas decorations.
Founded by Susan and her parents in 2006, Celebrations Group sources, designs, imports, and manufactures Christmas decorations. The business caters to large formats–think malls, councils, corporate offices, and national retail chains–and they provide expert installation. On spring nights in October and November, while Kiwi shoppers are all snug in their beds, Susan and her team descend into shopping centres to hang the giant decorations and sparkling baubles that herald the arrival of the silly season.
"We do anywhere up to one hundred sites in a short space of time," she says. "In a shopping centre, you need big stuff. It's got to have impact— shiny, glittery, and colourful."
The Celebrations team specialises in decor designed to delight people of all ages, like hanging stars, twelve metre trees, buildings wrapped with a bow, and festive Santa's grottos complete with toys, elves, and a shed-sized gingerbread house. Susan's flair for the creative means she also stays on the lookout for unique, non-traditional decor. "One year, at a show in Europe, I walked around the corner and there was this giant, eight-metre orangutan made from Christmas lights. I love that out-of-this-world, blow-your-mind stuff that just captures your attention."
A career in Christmas wasn't necessarily the plan for Susan. She hoped to study fine arts, but instead found herself doing a graphic design degree, gaining a distinction in her sculpture module. Later, her flair for objects led her to be in charge of merchandising for a New Zealand clothing brand as they set up operations across the ditch. After returning to New Zealand, Susan was looking for her next role when her mother—Margaret Tapper, one of the founders of Rainbow's End—spotted a client base for sale in The New Zealand Herald. "All of a sudden I had a business," recalls Susan. She was just twenty-three at the time. "Really pretty crazy, when you think about it."
Susan's first venture was STANDOUT Exhibition & Events, where she used her eye for aesthetically pleasing design to build displays and exhibition stands and supply decor for events. (STANDOUT still runs as a brand within Celebrations Group.) From there, Susan and her parents bought a merchandising and partyware importing business. The purchase came with one Christmas installation client.
"The previous owner used to do a bit of Christmas, as well as party products and display products, and so that's what we bought," she explains. Fast forward through a series of growth-minded business moves and mergers, and the focus began to shift from partyware and balloons to towering Christmas trees and oversized reindeer.
"We got more into Christmas eight or nine years ago," says Susan, "just based on the types of inquiries that were coming in. That's when we really started supplying directly to shopping centres, as opposed to dealing with a consultant who might get bits from us and bits from other people."
Thanks to Susan's boundless creativity and shrewd business sense, Celebrations Group is now New Zealand's leading supplier of Christmas decorations.
"We have the supply of Christmas decorations," she says, listing the many facets of the operation, "and then we have the installation of Christmas decorations and hiring Christmas trees to corporate offices. That's a bit of a growing business—we've just set up a Christmas hire website called The Christmas Hire Company. We've brought in a sleigh and some oversized reindeer, thrones, candy canes, giant inflatable baubles, Santa's mailboxes, and some giant 2.75m nutcrackers."
Susan's day-to-day team numbers ten people, but she takes on more help during the busy installation season. Each of her team members works within their core roles "about fifty to sixty percent of the time," she says, but they also jump in and help each other wherever they're needed. Outside the "all hands to the pump" installation season, the team's year-round workload includes sourcing, quoting, sales, freighting, logistics, and even pre-decorating trees to a client's exact color and decor specifications.
"We are definitely family—we look after each other," says Susan. And she's happy to reward such a tireless and dedicated team with perks like a four-day week. "I've introduced a condensed working week, so we all have Fridays off outside the silly season. That's been quite enjoyable and really good for people's health."
In a world twinkling with tinsel and coloured by red, green, silver and gold, one might wonder: Does Susan ever get sick of Christmas?
"You do, yeah," she answers cheerfully. "Obviously, we do Christmas 24/7, seven days a week, 365 days a year. But we don't get busy until the end of October and early December, when we're doing hire tree installations and things keep popping up. Once the installation season is over, it's more business as usual until it's Christmas again."
Susan and the Celebrations Group team welcomes anyone interested in purchasing or hiring unique and eye-catching Christmas decor to visit https://www.celebrationsgroup.co.nz/
Roundabout Magazine
This article was published in Roundabout Magazine Issue 191 (November 2022).