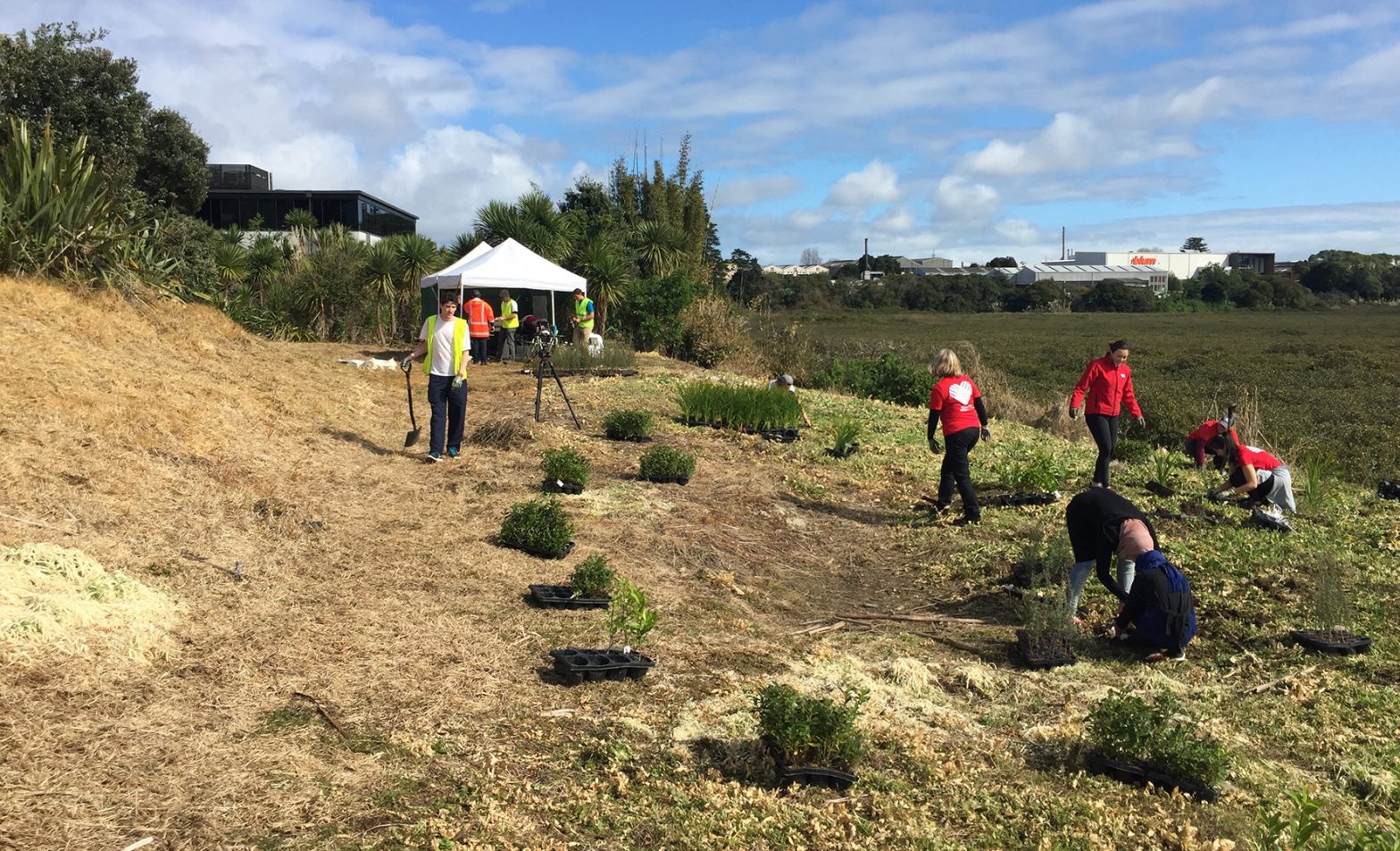 The Whau River Catchment Trust (WRCT 2012) is the principal environmental umbrella organisation for the Whau River catchment and is affiliated with Friends of the Whau (FOW 2000). The WRCT and FOW have been working together for healthier streams and river through community participation and kaitiakitanga since the year 2000.
The Whau River Catchment Trust (WRCT) is a charitable entity based in Blockhouse Bay, Auckland and was established in 2012. The WRCT delivers a wide range of community-based environmental projects, principally in collaboration with the Auckland Council and other key stakeholders such as the Rosebank Business Association, within the catchment, and includes programmes and projects in the areas of ecological restoration and conservation.
The Whau River Catchment Trust is working to restore the natural environment and reduce air (carbon emissions) and water pollution throughout the Whau River Catchment. The Trust, which began in the year 2000 as Friends of the Whau now operates as The Whau River Catchment Trust, and is made up of both full and part-time staff dedicated to conservation and environmental restoration.
We work with Auckland Council and others to coordinate community-based environmental restoration and conservation projects throughout the catchment. For example, we organise regular education and volunteer activities including:
Ecological restoration planting of riparian stream banks, as well as estuarine and coastal shorelines within the Whau River catchment.
Pest control – pest animal trapping and weed removal.
Monitoring the water quality and biodiversity of the catchment's ecosystems.
Reducing air and water pollution and removing rubbish.
Wildlife habitat restoration.
Key projects include;
The Rosebank Peninsula Coastal Restoration Project – which includes plant / animal pest control and ongoing ecological restoration of the coastal shoreline supported by Auckland Council Parks.
The Rosebank Peninsula Educational *Smart Trail – Kurt Brehmer Walkway / Ara Patiki Bay Wildlife Refuge.
Pest Free Whau – our vision is one where native birds and other wildlife can flourish, and everyone works together to support our natural heritage. We are focused on making the Whau River Catchment. Pest Free by 2050. Funded by Auckland Council/WWF/Predator Free NZ.
Te Whau Pathway – a Greenway development including environmental and ecological reintegration.
Te Whau Biodiversity Survey 2018-21 – a Citizen Science programme in collaboration with iNaturalist NZ. Funded by Whau Local Board/North West Wildlink.
WRCT Community Native Plant Nursery – raising native plants for our restoration projects.
WRCT Enterprises Ltd. – a community led social enterprise based on business principles to achieve social, environmental, economic and cultural aspirations.
A huge thank-you to all our supporters including the Rosebank Business Association, Auckland Council, and the Whau / Henderson Massey Local Boards.
Contact The Whau River Catchment Trust for more information: