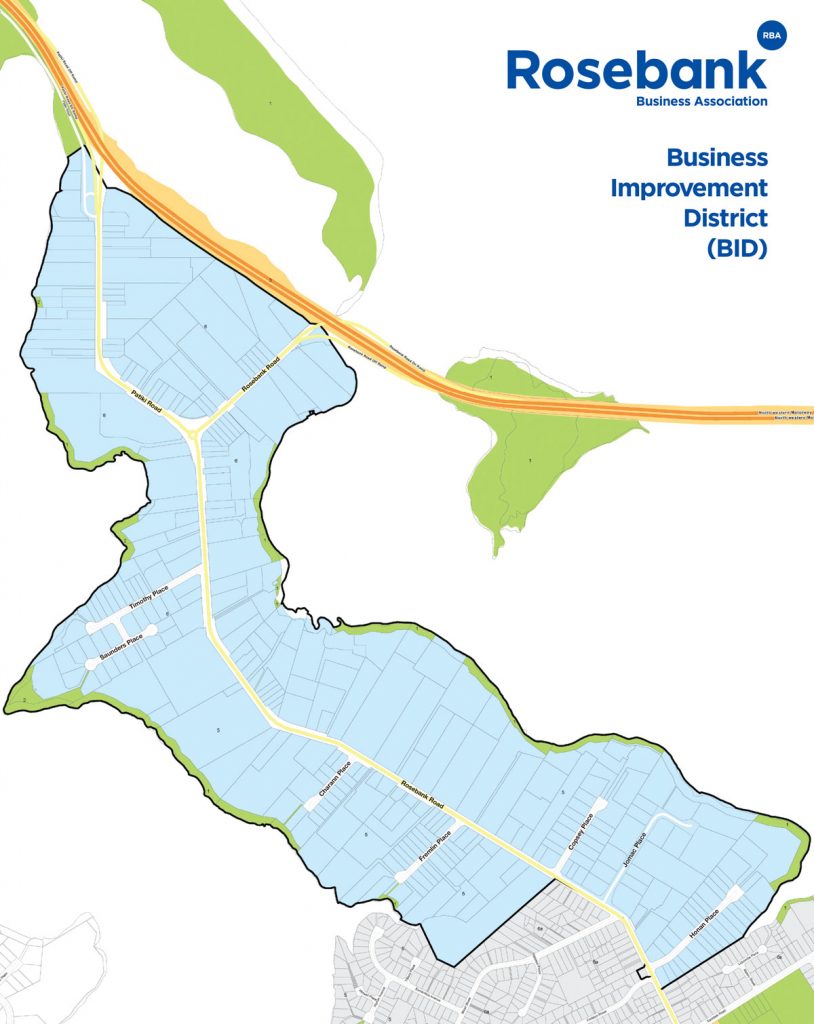 Rosebank Business Association – A BID since 2005
If you run, own or rent a business or property within our business improvement district (BID) you are eligible to be a member of the Rosebank Business Association. Businesses outside the BID area can also join as an associate member.
Being a member of the RBA is an alliance and a mutual partnership. We believe that we are stronger together and we want you to join us in making Rosebank a safer, cleaner, smarter business community.
The benefits
Over the last decade, the RBA team has worked hard to create services that promote the social and economic development of our important commercial area. RBA memberships provide concrete opportunities to help boost your business prosperity.
For businesses and property owners within the RBA improvement district (BID), being a member of the Rosebank Business Association gives you the opportunity to list your business in our online directory and advertise across our digital platforms. It provides you and your staff access to RBA events and workshops, as well as being kept informed of the latest news and occurrences in Rosebank plus much more.
1. Advocacy
As a collective voice, the RBA achieves greater traction with government (both central and local) and other stakeholders on issues and opportunities that affect local business, such as traffic, infrastructure, security and graffiti in order to advance the economic development of the area. Local improvement projects are guided by the business community and service provisions undertaken by Auckland Council.
Submissions are made on transport and traffic issues to support the RBA philosophies.
---
2. Safety & Security
We have a Rosebank burglary blog that keeps members up to date with criminal occurrences in our Rosebank community.
A Crime Prevention Group was set up to tackle issues occurring in our Rosebank Business neighbourhood. The group is made up of representatives from Auckland Council, Avondale Police, The Whau Ward Local Board, Auckland Transport and the RBA.
---
3. Wellbeing
Promoting health and wellbeing opportunities for businesses and their workplace employees by providing a wellbeing toolbox comprising of health checks, financial wellbeing support, community-based events and more…
---
4. Events
RBA's events are free to attend for two representatives from your business or property. This gives you access to training workshops and outstanding speakers to network, learn from and grow your business.
Rosebank Plus
Regular seminars and workshops are held throughout the year through our Rosebank Plus programme, designed to boost, support and grow SMEs by offering assistance in key areas of business from leading specialists including – market research, digital and online workshops, strategic marketing, governance, promotion and advertising, human resources and financial planning.
Hostings
The RBA provides regular opportunities for members to meet. Members have the opportunity to hold a hosting and showcase their products and services locally. Occasional breakfasts and luncheons are held at CEO level with keynote speakers – a forum for senior management to meet and discuss issues and initiatives. We provide effective marketing channels through an online business directory, monthly magazine, annual business directory and social media.
---
5. Other benefits
Business Directory
Members enjoy a free listing on the Rosebank business directory promoting their organisation's products and services to business owners and commercial property owners, who are responsible for over 9000+ local employees.
Roundabout Magazine
A free 300-word profile in the Roundabout magazine is provided to members upon first registering. The Roundabout magazine is distributed digitally to over 2000 contacts, is advertised on Facebook and features on the RBA website. Copies of the Roundabout are also printed. Members have the opportunity to also advertise in the magazine.
Pathways to the Future Trust
The Trust encourages and rewards young employees who contribute to the success of their employer's business. The Trust encourages and rewards young employees who contribute to the success of their employer's business. Funding grants are rewarded through the Trust for contributions towards vocational courses, textbooks or tools of the trade. By assisting an employee in attending study or acquiring equipment to aid them in their current employment, the aim is to give them a "leg up" in their career, allowing them to excel in their current role, and pursue opportunities for advancement that their employer may offer. To date, Pathways to the Future Trust has contributed over $200,000 to over 100 young people working in the West Auckland area.
---
6. Loyalty Programme
RBA Membership Card – a new offering to our RBA Members
Open to all RBA members and their families, the loyalty programme is a collective way to offer discounts to other local business members. The membership card is free to all RBA members as part of the RBA membership subscription.
Each month, cardholders will receive a newsletter highlighting new offerings across the association. The purpose of this card is to encourage people to engage and participate with local businesses and advertise at the same time.
Businesses wanting to offer discounts to members through the card platform can register interest now. Discounts can run for the duration of the year or for a specific period.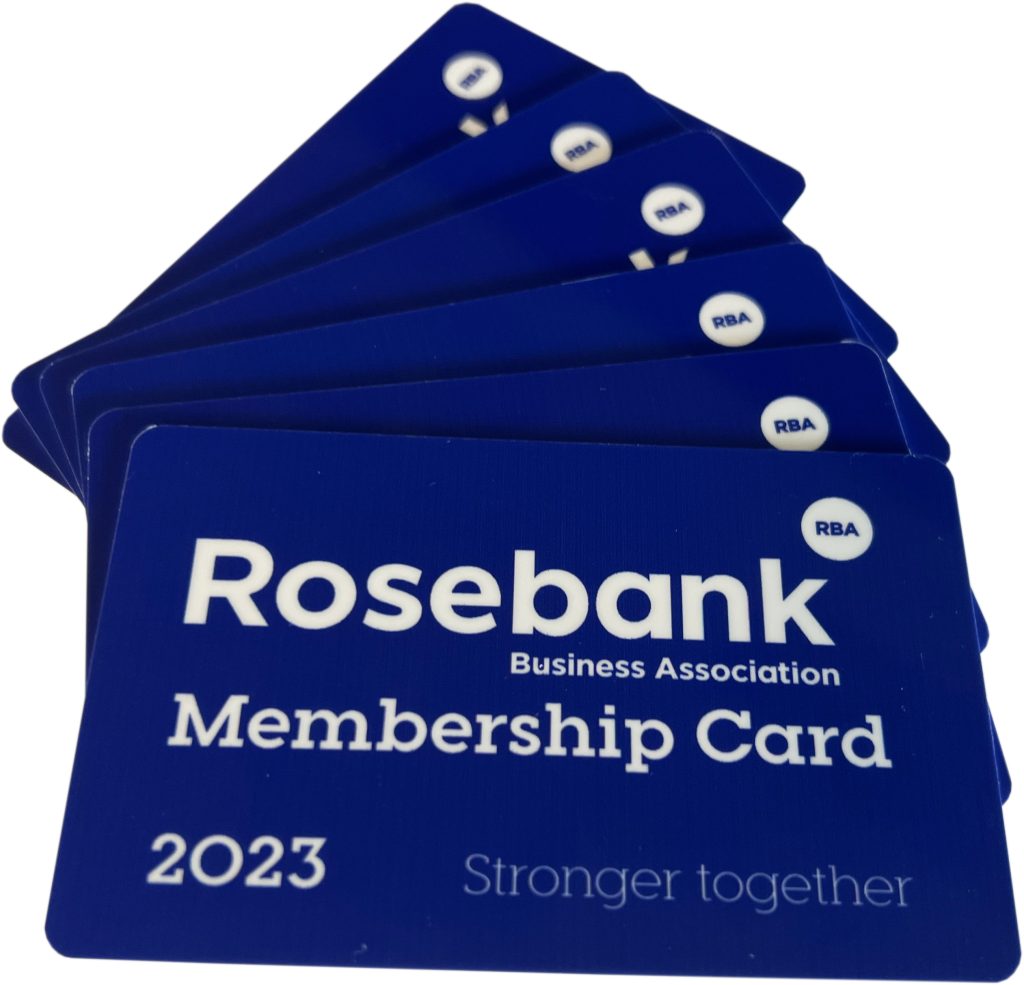 ---
Keep up to date
Be amongst the first to hear about important news, events and special offers via our regular blog.
---
To become a member
Join now via the link below. If you have any questions, please contact Kim Watts, RBA Executive Engagement Manager, via [email protected] or 021 639 509.