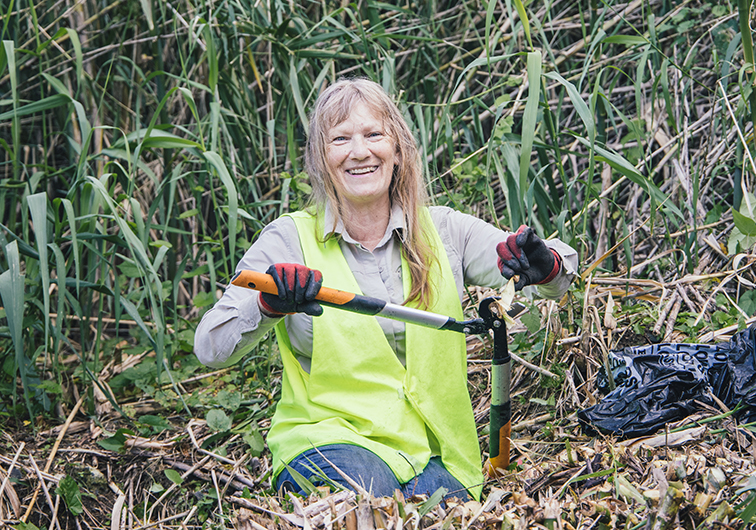 A West Auckland conservation group is working hard to care for a patch of local bush on the Rosebank Peninsula, both for the good of the neighbours and for native birds to nest.
Friends of Kurt Brehmer Walkway was established three years ago and its members, a group of people who share an interest in conservation and community, are continuing to carry on the legacy of Avondale conservationist Kurt Brehmer, who was an integral part of early conservation efforts in the area.
"We're getting rid of weeds in the bush, including Arundo donax, moth plant and Madeira vine, and replanting the gaps with eco-sourced plants. The walkway will benefit everyone in the area, including workers on the Rosebank Peninsula who can take a walk during their lunch break," says coordinator Robin Brehmer, Kurt Brehmer's daughter.
Avondale is undergoing large-scale urban development, so getting into nature is even more important, says Robin.
"Many people don't have backyards any more, but they still need to go out there and see a bit of green for their mental and physical health. The walkway is a wonderful asset for Avondale, running alongside the Whau River. "
"The bush strip along the walkway is also a vital link in the Whau Wildlink for the birds to pass through," says Robin.
A keen tramper and lover of the outdoors, Robin has been volunteering at the walkway since its opening 20 years ago, and says it is a wonderful way of contributing and being part of the community.
"It's our neighbourhood and our community. We're so lucky to have the support of the Whau Local Board and Auckland Council in our project. "
Friends of Kurt Brehmer Walkway group is a member of the Whau Wildlink project, which brings together groups passionate about creating thriving green havens for native birds. This supports the greater vision of the North-West Wildlink, to maintain a green corridor between the pest-free sanctuary of Tiritiri-Matangi in the Hauraki Gulf, and the Waitākere Ranges in the West.
The group meets weekly at 9am on Thursday mornings and welcomes anyone keen to be in the outdoors or contribute to the community, meet new people and do a bit for climate change. If you're interested, contact Robin at [email protected]
Roundabout Magazine
This article was published in Roundabout Magazine Issue 196 (May 2023).