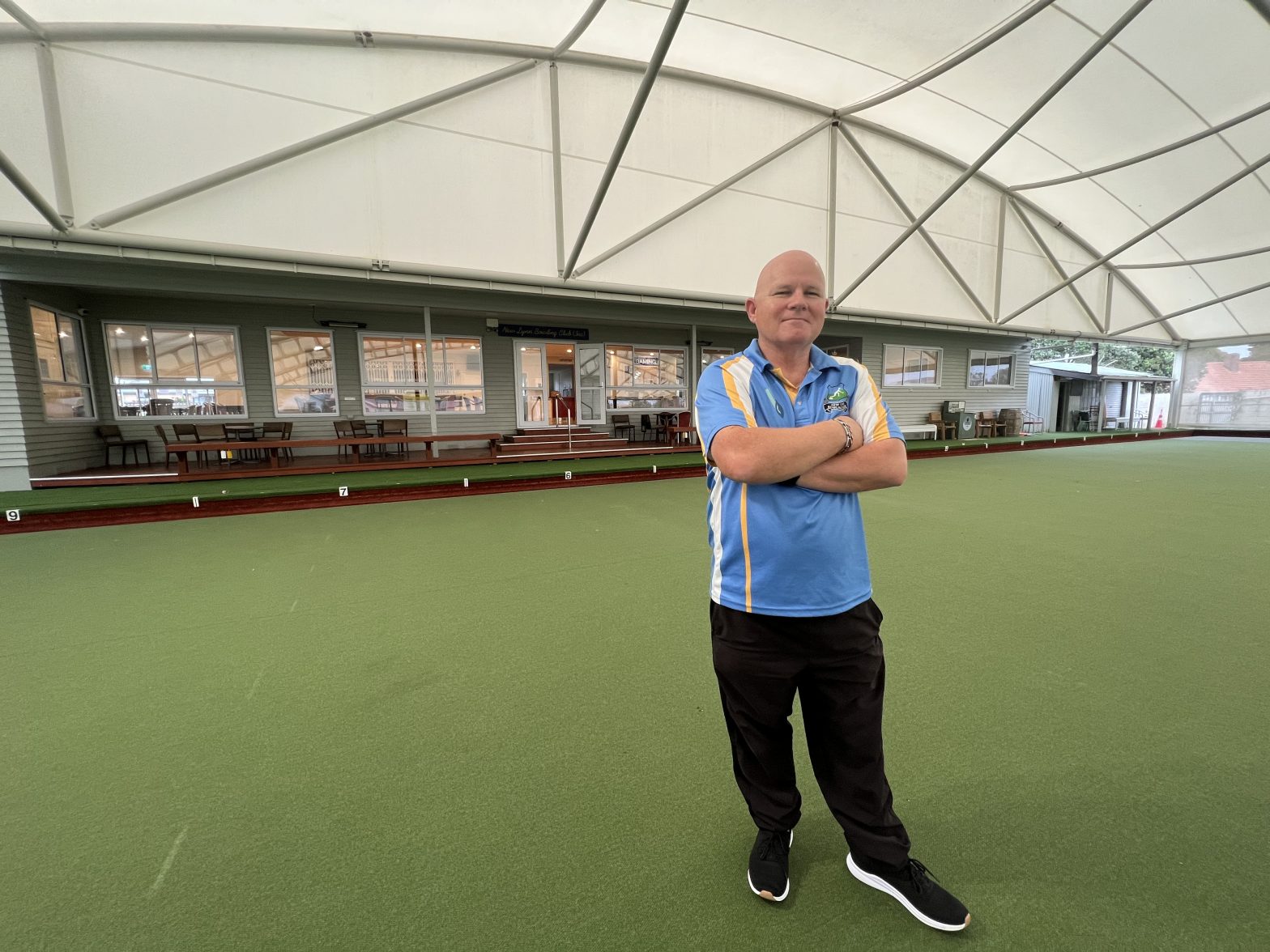 It's the new guy's turn.
He steps to the edge of the green, colourful ball in hand. Under the warm sun, surrounded by his work colleagues, he's about to make his first-ever attempt at lawn bowling—only too aware that the boss is watching. But once the ball is successfully rolling down the grass, our new guy discovers what many have known since the game's invention in ancient Egypt: not only is lawn bowls easy to play, it's fun, too.
Simon Poppleton, manager of New Lynn Bowling Club, has seen this scenario play out dozens of times, and he'd be the first to encourage a new player to give it a go. "The beauty of bowls is it can be played by anybody," he says. "It doesn't matter how old you are, how young you are, what physical shape you're in—you can play bowls."
New Lynn Bowling Club has been a fixture in the community for decades. Founded in 1927 on the purchase of ¾ of an acre on Reid Road (for the princely sum of 259 pounds), the club offers an outdoor grass green and a covered artificial green, New Zealand's first when it was built seven years ago. But there is much more to the club than bowls alone.
With its covered space, full kitchen, and spacious lounge (boasting a capacity of 150 people), the club is the perfect venue for functions and events. The entertainment options on hand go beyond the greens, with several dartboards, pokies "for the dangerous people," Simon laughs, and an option to set up group quizzes for corporate clients. The club kitchen offers a weekly menu of hot, hearty pub-style food—think lasagne, burgers and chips, steak, and tandoori chicken—and works with a trusted caterer to offer the likes of canapes, a roast dinner menu and buffet. Not only that, but Spanish-style market favourite Paella Pan is on call to set up a sizzling feast for any and all dietary requirements.
The main draw of the club is, of course, a social game of bowls, and you would be hard-pressed to find a man more enthusiastic about the sport than Simon. An indoor bowls national titleholder in 2004, Simon has been playing indoor bowls since he was 13, outdoor since age 19, at clubs around the North Island. He joined New Lynn Bowling Club in February after a successful stint as Business Development Manager at Takapuna Bowling Club, and he's keen to get more people interested in joining the fun at New Lynn.
"Bowls is one of those games where it's easy to play, hard to master," says Simon. "Easy to play, but there's more to it than people realise."
For the uninitiated, lawn bowling is a strategic hand-eye coordination game, perhaps most similar to ten-pin bowling in the delivery of the ball and chess or golf in the level of skill a player can build.
"The winding of the arm back and the follow-though is a similar action to ten-pin bowling," says Simon. "Although it's more of a finesse game. The bowl actually goes quite fast along the green—that's the biggest thing people find who've never played before. They really hiff it then go, 'Ooh, that's quite fast.'"
People love bowls, he says, because of the social aspect and because it's easy to play. "You can be nine to 90 to play, and it's not divided by gender. You can play mixed teams."
Coming up at the club are lots of opportunities to try the game for yourself, where local businesses will be invited to have a go.
And although you could be forgiven for thinking that bowls is an older person's game—most clubs have a membership that is almost entirely aged 70 plus—New Lynn Bowling Club is a great social venue for players of all ages, says Simon.
"The ages of our members range from 40s to 60s and 70s. It's a different scenario from most bowling clubs, where at least 90% of the players are retired. Most of our members still work."
Simon is passionate about introducing the game to an even younger generation. He has begun working with St. Dominic's College in Henderson to train keen students after a spike of interest following the recent National Secondary School Championships, and Avondale College comes to New Lynn Bowling Club every week for a practice.
"I want to set up a tri-sport series where the students try outdoor bowls, indoor bowls and darts," he says, an idea warmly supported by the sport's governing body, Bowls New Zealand.
No matter your skill level, or that of those attending your upcoming event or function, Simon and his team at New Lynn Bowling Club are ready to make your experience fun, friendly, and fuss free.
"All the gear is provided for you," he says. "All you have to do when you come to the club is wear soft-soled shoes."
Get in touch with Simon and the team at New Lynn Bowling Club by email on [email protected] or visit their website: https://www.newlynnbowls.co.nz/.
Roundabout Magazine
This article was published in Roundabout Magazine Issue 196 (May 2023).