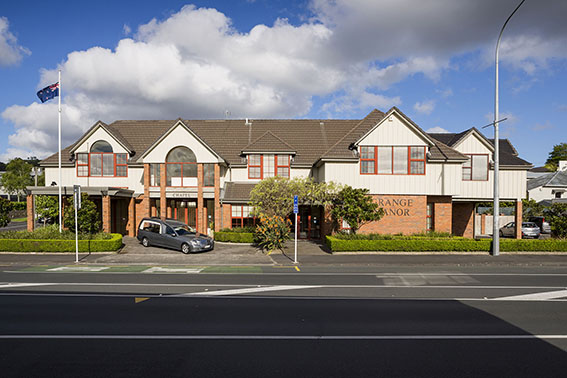 It's 3am, and the phone goes off. The voice at the other end is distraught—a beloved family member has died unexpectedly. In the days that follow, what will undoubtedly be a difficult and emotional time could easily become confusing and hard to navigate. Poised and ready to answer the call is the experienced and empathetic team at Davis Funerals.
With five branches that service every corner of the wider Auckland area, Davis Funerals is known for being a caring, dedicated, and professional provider of funeral services, as well as a trusted provider of repatriation services worldwide.
"Our expertise goes across a wide range of religions and cultures," says Funeral Home Manager Michael Powell. "We help the deceased get to where they need to go, and we help the living get to where they need to be. We're proud to be a support system that carries people through what is probably one of the toughest times in their lives."
Davis Funerals has provided care to Auckland-area families for more than eighty years. Founded in 1875 as the Little Funeral Home, the business became Davis Funerals in 1935. Their history is storied and rich, but more important to the Davis team today is providing bespoke, compassionate funeral care to modern families.
"We need to be able to work with empathy," says Michael. "Families don't want sympathy—they want empathy and respect. They're looking for somebody who is authentic, honest and who is going to help them every step of the way."
Excellent funeral care, he explains, is about balancing empathy, authenticity, and a personal touch with tailoring the right service. This is the ethos behind the Davis Funeral Care approach.
"It's being there, but it's also knowing when not to be there. You want to be like the butler on Downton Abbey: guiding the family if they need it and foreseeing challenges before the family does themselves."
Helping families to navigate their grief is a calling for Michael. He was first introduced to the funeral business during his university days, when he worked part time at a funeral home to help finance his studies (and nearly made it his career). After spending almost thirty years overseas in a completely different field, his return to New Zealand served as an opportunity to reflect on what he'd like to do next.
"It was something I felt I needed to revisit," Michael recalls, speaking with an unwavering calm and steady assurance. Despite the heavy emotional load that comes with his chosen field, he says that supporting families during such a difficult time is deeply fulfilling. The Davis Funerals team is well supported in that regard, with a keen focus on communication, working collaboratively and taking the time to support each other and have a "bit of fun." A free and confidential workplace counselling service is also available to any staff member who needs it.
"Every family is different, and every circumstance different," says Michael. "We focus on being the best we can be for our families and going that extra mile. Regardless of whether a member of the team has been with us for one day or thirty-seven years, I want everybody to feel proud of what we do."
And the personal reward for shouldering the burdens and stress of helping others navigate their grief? You can't beat it, says Michael.
"I couldn't think of too many other careers where you get this level of satisfaction from providing such an essential and altruistic service."
This passion and dedication to sterling funeral care fueled a recent rebrand across the business. Starting this month, you can expect to see new logos and artwork on the Davis Funerals signage, printed material and fleet of vehicles. But the core of the rebrand, says Michael, is about the service they provide. In an era of societal change, with a younger generation coming through, Davis Funerals is committed to moving with the times and offering clear, relevant funeral care that caters to each family's individual experience.
"We don't pre-empt a family's funeral care needs" says Michael. "Whether the arrangements are complex or large, it doesn't matter—we want to ensure an individual and suitably fitting experience for each family."
The team helps families to prepare for the future with preplanning and pre-payment options, and they deliver an end-to-end service when the time comes. This includes following up after the funeral has taken place and facilitating grief counselling. "During those days when somebody has died, we're there to help them get through to that next step where they can accept their grief and they've been able to make meaning of the fact that they're now living life without the physical presence of the one they have lost. After the funeral has finished, and the reception has taken place and everyone's gone on their way, we want to ensure that the family has help to carry on."
For the Davis team, caring for the community goes beyond funeral services. "We spend a lot of time doing community outreach work," says Michael. "We run a number of sponsored morning teas for groups like Age Concern, we work closely with hospice, and we also support younger members of our community through activities like art shows. We talk to the elderly about end of life and the changes it brings, and we also sponsor shows and events that encourage people to enjoy life."
Davis Funerals also offers their team fully paid "community days" to volunteer their time in the community. "It's not always about money—sometimes it's about having the arms and legs available to actually support the Hospice Shop or to do fundraising for Cancer Society."
Michael and the rest of the Davis Funerals team welcomes anyone to drop in for a chat during their office hours (the Mount Eden office is open seven days a week from 8:30-4:30), or you can reach the team online or by phone twenty-four hours a day.
"For many people, funeral homes are a quite scary place to be," says Michael. "Whether it's just to have a discussion, to discuss pre-planning, or simply to gather some information, we welcome people to get in touch or drop in. We put as much information as we can on our website, and we aim to be totally transparent—you can find all the pricing there, and nothing is hidden. We're part of the community and we're here to help."
davContact Davis Funerals any time, day or night, on 09 638 9026, or visit them online at https://davisfunerals.co.nz.
Roundabout Magazine
This article was published in Roundabout Magazine Issue 191 (November 2022).