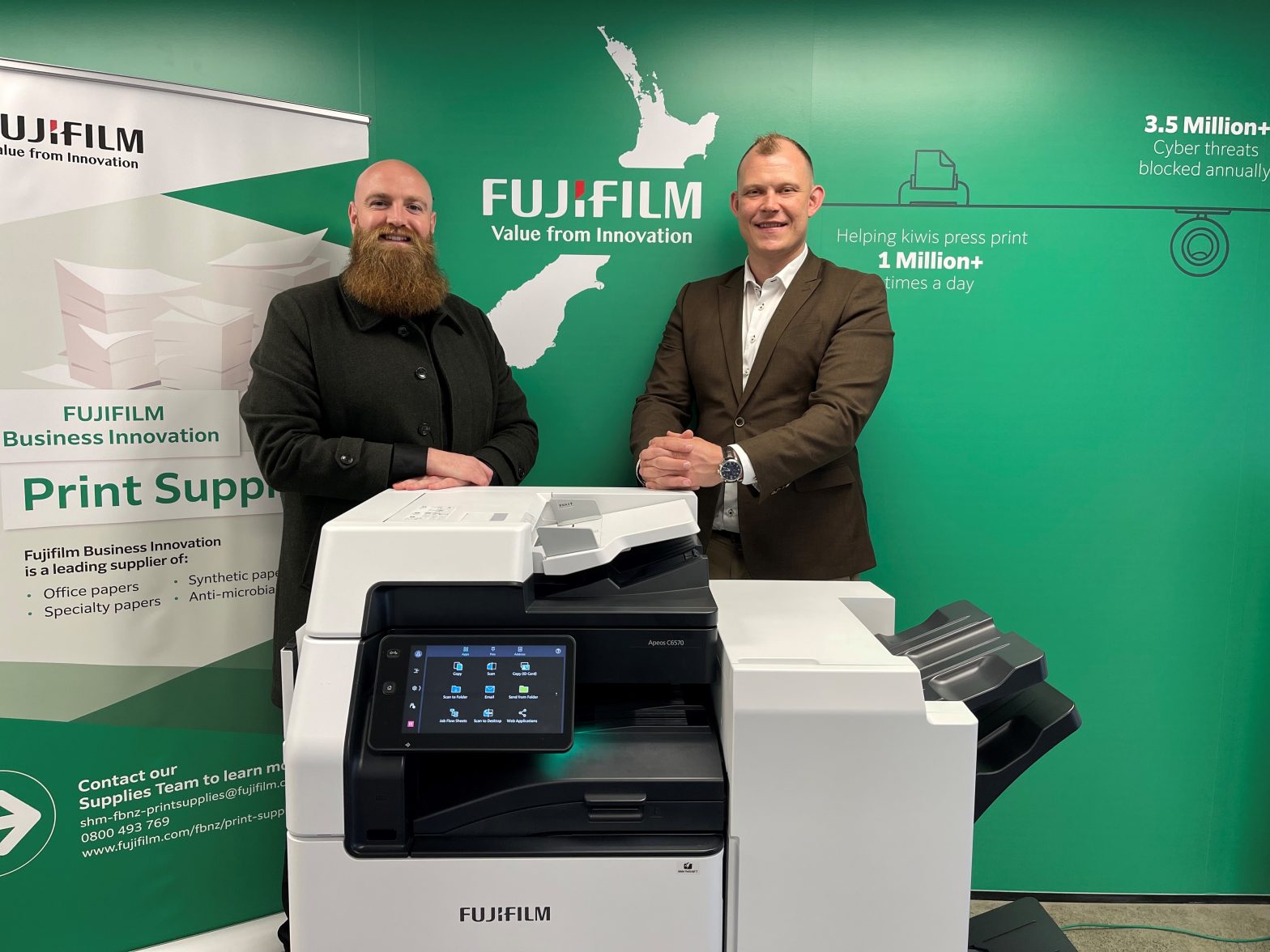 Half a century ago, in the postwar era of beehive hairdos and The Beatles, a well-known Japanese camera company partnered with a pioneer in modern photocopying. Known then as Fuji Xerox (the name 'Xerox' stemming from the word 'Xerography,' the modern form of photocopying), the business made its way to New Zealand in the early 80s and cemented itself into the national consciousness as a quality manufacturer of cameras, film, printers, and copiers. But fast forward to today, and the company – now called FUJIFILM Business Innovation – offers much more than you might expect.
"Everyone knows the brand Fujifilm for cameras and for photographic printing, but today Fujifilm Business is much more than that" says Carl Cimpoias, Commercial Sales Manager for Auckland. FUJIFILM Holdings owns more than 300 subsidiary companies globally and employs around 74,000 people across a range of sectors and industries. Here and across the Tasman, the FUJIFILM Business division are the technology arm of the global brand. "Our mission is to provide exceptional value through innovation to Kiwis and Kiwi Businesses with our NeverStop spirit."
FUJIFILM Business Innovation has branches across New Zealand, 23 in total, from the far north to the deep south and across all the major city centres and rural locations. The Head Office is located out by the Airport in Māngere and the Kiwi-based team numbers over 800 people nationally. This wide-ranging footprint, says Carl, is a big part of what sets the company apart from their competitors in New Zealand and being local.
FUJIFILM Business Innovation's acquisition journey over the past few years has built on their solid foundation to create a well-rounded product and service offering for Kiwi businesses. The company sells and services directly to the whole of New Zealand and operates 4 leading edge business services; Digital Technology (Printing equipment, Screen/AV and Software solutions), Process Automation (software-based solutions using technology like AI), ERP sales and support (via a recent acquisition called MicroChannel) and IT (through another acquisition in 2020, CodeBlue).
"MicroChannel and CodeBlue are part of the FUJIFILM ecosystem," explains Carl. "MicroChannel are Microsoft, SAGE and SAP sales and support specialists, and CodeBlue are a fully Managed IT Service Provider, allowing us to help our customers in many different ways not just printing". Printing software and hardware is still, of course, the largest area of the business; this includes printers, photocopiers, paper, as well as workflow and scanning applications.
"We're the market leader here in New Zealand with approximately 50% market share across sectors including Commercial, Enterprise, Education, Government, and the printing industry itself." On top of printing equipment and software, the company also offers a raft of digital solutions for Kiwi businesses, such as digital display screens for advertising or office use (think the bright, inviting screens in realtors' windows or wireless meeting rooms with Interactive touch capacity).
"We sell and support many customers with their meeting rooms and AV requirements," explains Carl. "You can control and manage them remotely through different software platforms, you can have them running 24/7 – you can even run them in direct sunlight. If you're looking to fit out a workspace, we can set up meeting rooms with screens or interactive spaces where you can utilize Teams and Zoom for example or as a communications tool where you can display company news and messages."
"We're also the only company that is truly nationwide in New Zealand, and this gives our customers peace of mind" he says. "Every person who goes to one of your sites or services one of your printers is a direct employee of FUJIFILM Business Innovation. From a service point of view, this provides greater consistency, better visibility and higher service levels which we measure continuously and are always trying to find ways to improve".
Carl and Thomas Taylor, the Territory Manager for West Auckland, both live in West Auckland, and Carl says there is much to love about doing business out west.
"Both Thomas and I enjoy dealing with West Auckland business owners," he says, "and the local people that work for them it's important to have that connection to the community. We both have family and friends who work within businesses in West Auckland I think that's quite important to have that local level of engagement for Fujifilm."
Carl is also enthusiastic about all the benefits of living and raising a family in the West Auckland region has to offer. "From a life point of view, it's got everything you need: shops, beaches, forests, golf courses, a wide range of sports clubs, wineries and great cafes as well as restaurants."
Carl and Tom welcome you to get in touch to discuss your business needs and the services they can offer. "We lease a lot of our equipment, which is beneficial for cashflow, so if you're doing a lot of printing – proposals, sales material, general office documents, whatever it may be – we can recommend and tailor a solution to fit your business, from a small, desktop-type unit to a full-scale modern office multi-function device. We also have new and refurbished machines if you're looking for something more cost effective."
To speak with Carl or Tom, get in touch by email at [email protected] & [email protected]