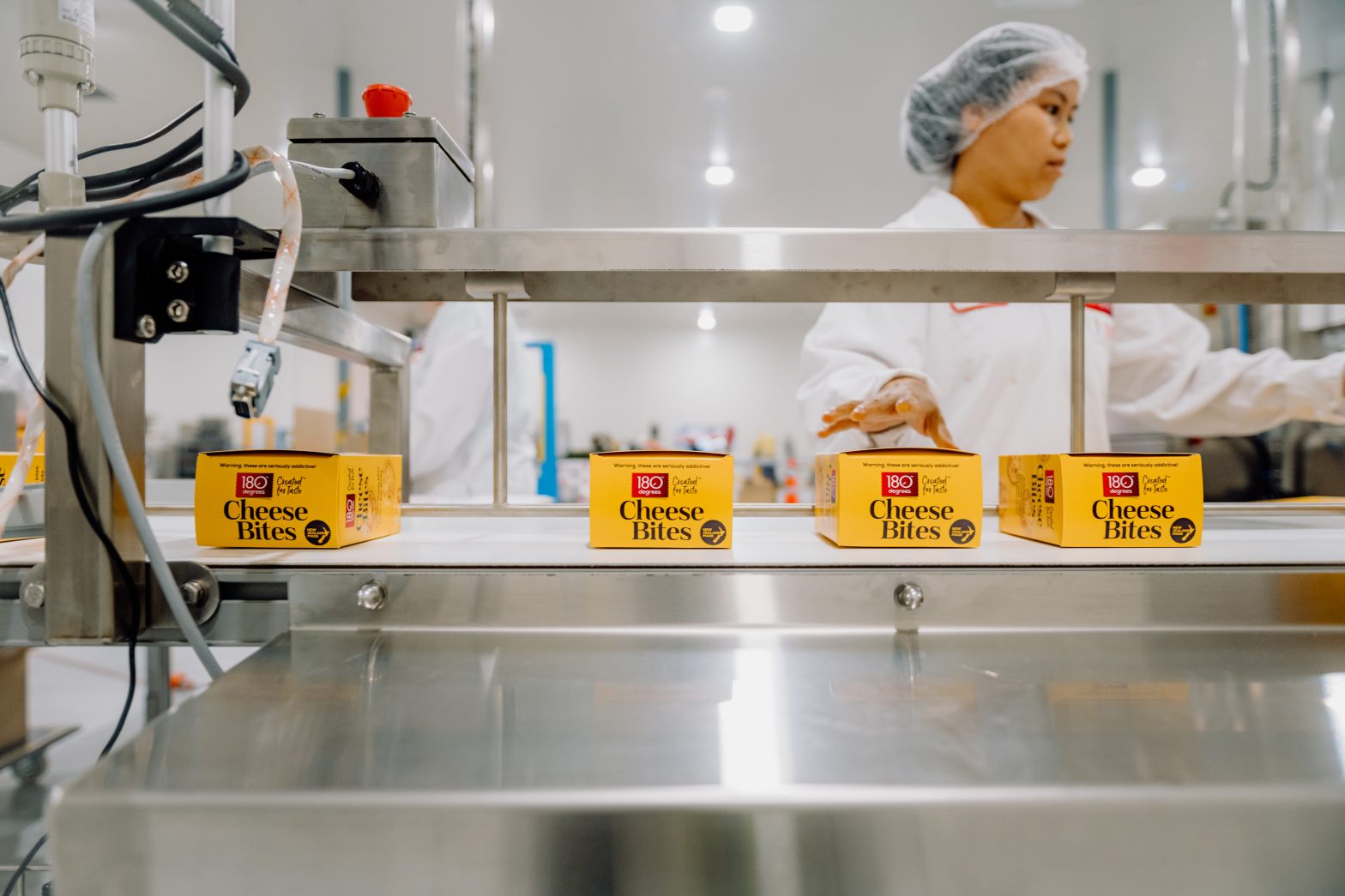 With the opening of its new multi-million-dollar, 4000sqm manufacturing facility in Rosebank, The Arnott's Group (TAG) has signalled its commitment to ongoing investment in New Zealand, enhancing localised supply chains and strengthening manufacturing, technology, capability, and skills.
"The Rosebank facility has been designed to unlock world-class innovation and flexibility for the broader Arnott's network and will allow us to increase our locally made Arnott's range," Arnott's chief executive George Zoghbi said at the opening event in June.
Zoghbi declared that it is a special day "because we are bringing production back to NZ."
"People ask me why you would invest in New Zealand," he said. "It's because you can do big things with small stuff."
Deputy Prime Minister and Kelston MP Carmel Sepuloni praised the new factory for supporting the local community.
"This is a big move forward for Arnott's. We look forward to seeing what you can achieve," she said.
Sepuloni said the opening was exciting, and thanked Zoghbi saying she is grateful the company is creating job opportunities for Aucklanders, which could further support other local businesses.
She said there is a lot of excitement at the Beehive about Arnott's returning to New Zealand shores.
It has been 25 years since Arnott's last manufactured in New Zealand, closing its Ōtāhuhu factory in 1997 when it changed hands and production was taken to Australia. Now TAG has invested tens of millions of dollars into its return to the New Zealand market, driven through its $10.5 million acquisition of Kiwi brand 180degrees.
Acquiring the gourmet savoury cracker brand from Jill Seton and Frank Lawton in 2021, Arnott's made the decision to scale up local production, announcing the decision to build the new facility, which employs 40 staff, 12 months ago.
The former 180degrees factory in Glendene has been decommissioned, with its staff, ovens and equipment transferred to the new Rosebank Road location.
Mike Cullerne, Arnott's Group NZ country director, said the decision to bring back local manufacturing was part of plans to mitigate supply chain disruption risks.
"The benefit for us being able to build a factory in New Zealand is being able to tap into local manufacturing capability but also local suppliers," Cullerne said.
"Over the last three years in particular, with various supply chain challenges across the world, it has also become very clear that having local production and local capability gets you closer to the market and closer to the consumer. It is really important for us to live by that and invest by that. This Avondale site represents a real step change in our approach in this market."
This sentiment is reflected in NZ Food and Grocery Council chief executive Raewyn Bleakley's observation that some organisations are rethinking the importance of local relationships with suppliers and their impact on the environment, given difficult supply chain challenges after the pandemic, such as sourcing ingredients and distribution disruptions.
"Those factors will be things that all companies are weighing quite carefully when making investment decisions in the current environment," she said.
Bleakley commented that large food manufacturers have typically prioritised economies of scale, which favour taking manufacturing offshore, so it is encouraging to see a large food producer like Arnott's bring back local manufacturing.
"It's a really positive development to see refreshed interest in having manufacturing back in New Zealand from companies like Arnott's," she said.
While food manufacturing remains a difficult market, Bleakely says that local manufacturing should in theory mean more competitive prices, but that there could be a trade-off of scale and higher costs if ingredients were imported.
"It has been a challenging period for the food manufacturing sector with Covid, with weather events, with really tight labour market conditions and uncertainty over future regulation both in employment and sustainability matters, but we have great entrepreneurs and passionate people in the industry who are demonstrating their ability to succeed and deliver great products even in tough conditions," she said.
Cullerne says Arnott's is gearing up to set up a local research and development team, and had also invested in a new manufacturing line for the factory. The site would be used as an innovation hub for Arnott's in the Australia-New Zealand region, allowing it to grow its local product range, including sweet biscuits.
"The capability of this site allows us to make a number of different formats – obviously crackers, but things like cookies, bars, and filled products. The site itself will retain that batch-baked process, so [production] won't be through long manufacturing lines, and that'll give us a lot of flexibility to create different formats," says Cullerne.
The move helps create biscuits designed for local palates which the company is able to do "for the first time … in a long time," also confirming that there will be some local products Arnott's would "definitely be exporting."
With New Zealand's biscuit category worth approximately $500 million annually, Arnott's have identified a growth opportunity in sweet biscuits.
"The 180degrees brand plays into crackers, but when the founders Jill, Frank and Nigel set up it was actually a sweet biscuit business – they used to make a number of premium biscuits like Melting Moments and Florentines, so the brand can definitely stretch across sweet," said Cullerne.
He said that although the Rosebank plant will mainly make 180degrees crackers, it is on track to release its first new local range, "shortbread bites," acknowledging that Kiwis have a more savoury palate than Australian Consumers.
Arnott's have partnered with Barker's of Geraldine to supply all the fruit and jams for the new products, a move that Cullerne says is to support local suppliers.
The new facility has the daily capacity to make approximately 100 batches of biscuits and crackers, including up to 13,000 packets per day of its 180degrees gourmet crackers, equating to an expectation of around 7.5 million packs of crackers and biscuits each year.
Roundabout Magazine
This article was published in Roundabout Magazine Issue 198 (July 2023).