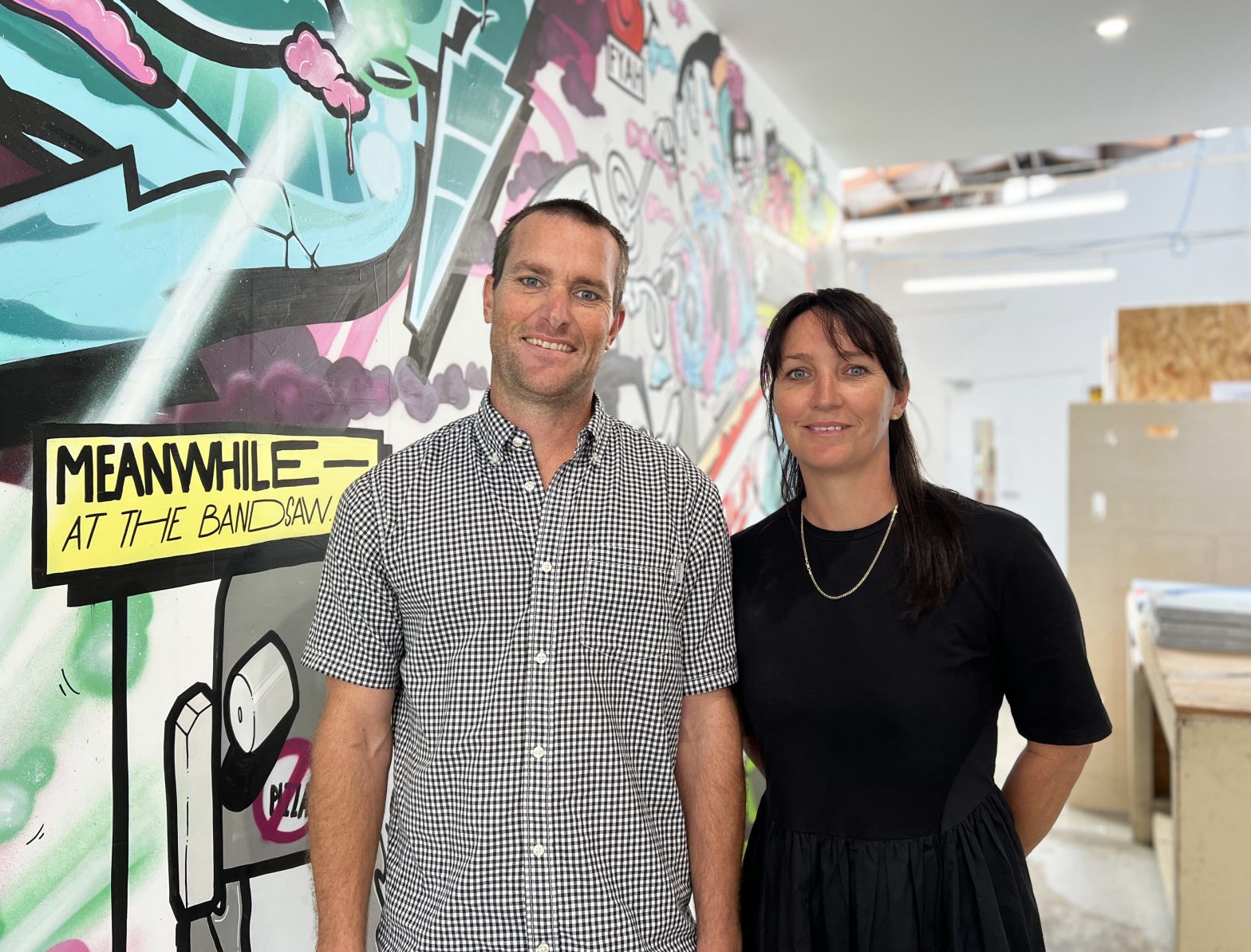 What do dining chairs, board games, and a display stand for car air fresheners have in common?
They're just some of the products and prototypes recently cut by Newton Cutting Formes Services on Rosebank Road. For over four decades, Newton Cutting has specialised in die cutting, CNC router cutting and laser cutting on a wide range of materials, including paper, rubber, foam, metal, MDF, acrylics, wood, and more.
"There can be a lot of variety," says Nick Scholtens, co-owner of the family-run business. "We service manufacturing, signage, and people at home who want to cut out a custom wooden table." With a range of machines providing different levels of precision, the team is poised to deliver quality work to the most exacting specifications, from panels to stencils to fine, detailed work. And they get the job done fast. "Our turnaround time is quite good. It's busy across the industry, and we're available to help."
Founded in 1977 by Dutch transplant Reinier Scholtens, Newton Cutting has slowly grown from a husband-and-wife operation to a multi-generational family enterprise. The business first launched from a location that might surprise those unfamiliar with the finer details of Auckland's history: K Road.
"We started in St. Kevin's Arcade," says Nick, referring to K Road's bright and eclectic two-story retail mall. "It was a bit of a business area back then—not so much now, with the bars and bistros. The business started where [music venue] The Wine Cellar is now."
After decades of growth, Newton Cutting moved into the Rosebank Road area in 2008 and settled into their current location in 2020. Although Reinier has since passed away, his legacy has been proudly upheld by his children, Nick and Melanie, who now share ownership of the business.
Nick joined the ranks at age 18 and never left (although he did weave in a two-year OE, during which he connected with his father's Dutch family in The Netherlands). After 25 years in the business, Nick still enjoys the people he works with, the challenge of specialty jobs, and the daily satisfaction of doing excellent work for his customers. With his generally laid-back attitude and hands-on approach, he says his style matches well with sister Melanie's high standards, sharp bird's-eye view and attention to detail.
"She does job bookings, accounts, and general day-to-day stuff, and I deal with sales, production, machine maintenance and repairs," says Nick. "We make a good team."
As for the next generation of Scholtens joining the family business?
"Melanie has two kids, they're 14 and 12, so we're not sure at this stage—we don't want to push them too hard," chuckles Nick. His own daughter is only 19 months old, so she's not quite ready for the workshop either. But if the youngest Scholtens did ever decide to take up the family trade, they would enjoy the benefit of a well-oiled workplace and a flexible work-life balance.
"It's a family business, and we're all pretty close," says Nick of his team of 12, some of whom have been with Newton Cutting upwards of 30 years. Thanks to a system of staggered early starts, much of the team is able to finish up their workday by mid-afternoon. "As a business, we start at 6am and finish at 5pm," explains Nick. "Some people start at 6 in the morning, and others at 8 and 9."
An early riser himself, Nick likes to welcome each day on the water, fitting in a few lungfuls of salty sea air between work and daycare drop-off. "I try to get out on the water in the morning if I can," he says. "I do a lot of kite boarding, surfing, paddleboarding, spear fishing. Anything on the water, really."
With their rich history, expert experience and long-term tenure on Rosebank Road, Newton Cutting is the perfect choice for local businesses looking for CNC and laser cutting services. With many CNC providers sitting at full capacity with orders, Newton Cutting is ready to get the job done now. "We're here," says Nick, "and we're ready to help."
The Newton Cutting team welcomes you to get in touch via phone on (09) 376 2734, email at [email protected] or via their website: https://newtoncutting.co.nz/
Roundabout Magazine
This article was published in Roundabout Magazine Issue 195 (April 2023).