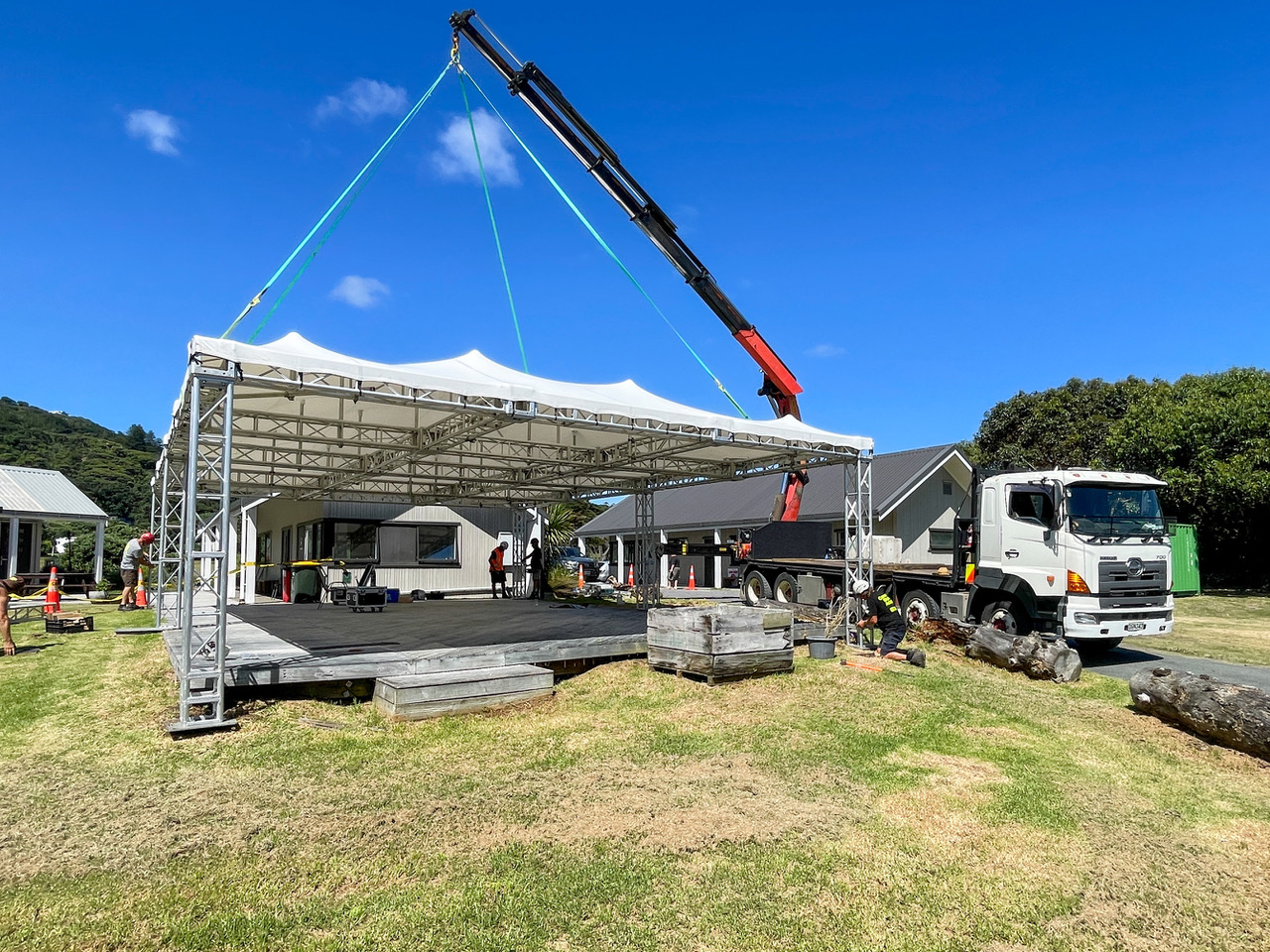 Cyclone-displaced families sheltering at Muriwai Beach Campground can now enjoy the autumn sunshine from the comfort of a new outdoor lounge—thanks to a collaboration between Event Base and Rollercoaster Design.
Working together with Rollercoaster owner Greg Skinner, Event Base business partners Simon Hakaraia and Jason Crawford recently installed a "truss and stretch" structure over the campground's large, exposed deck, creating a sheltered communal hub for Muriwai residents in temporary accommodation there.
"We wanted to do something practical," says Simon of his team's reaction to the damage wrought by Cyclone Gabrielle. "Muriwai is close to our hearts—Jason and I had both spent time living there years ago. We work with Rollercoaster in the event industry, so we reached out to Greg Skinner."
A Muriwai local, Greg nominated the Muriwai Beach Campground—its uncovered deck, in particular—as the best match for the expert help that Event Base could provide. The idea, Simon explains, was to create a community hub.
"Somewhere for people to come together," he says.
Established in 2009, Event Base's primary focus is delivering world-class infrastructure for brands and major events—think the main stage at the America's Cup Village, or a gleaming Aston Martin in a glass case at the foot of the Sky Tower, or a giant, ribbon-wrapped, Tiffany-blue box in Britomart's Tukutai Square. But that's not all; Event Base also leases infrastructure for commercial use, pop-up Covid-19 clinics and assessment spaces, and truss roof systems for warehouse yards and public spaces. They assemble property display suites using Spacecube, their modular building system, and offer modular portable buildings solutions through Pacific Portable Buildings, which they acquired last year.
"We strive to be word-class in what we do," says Simon. "As a team, we give a damn about what we're doing. We care a lot about our event structures—we're not just banging up marquees."
After visiting the campground and discussing with Greg a range of options, Simon and Jason decided on a truss and stretch installation—and, with the help of their team, sorted it quick smart. The whole process, from the initial idea to the completed project, took merely a week.
"It's a pretty simple thing to do, really," says Simon. "It's what we do every day."
"The families think it's great," says Denise Mackle, who leases and runs Muriwai Beach Campground with Cheryl Beatty. Currently closed to the public, the campground is operating as temporary accommodation for families whose homes were red stickered in the aftermath of Cyclone Gabrielle.
Plans for a covered deck had been part of the deal when Denise and Cheryl took over the lease for the campground six years ago. "Our plan was to enclose it in with drop-down sides," says Denise, "since we don't have a TV room or anything like that."
But due to various hiccups with contractors and council, the promised cover had evaporated, leaving the deck fully exposed and virtually unusable.
"In the heat of summer, we could have a campground with 300 people and no one would be sitting on the deck because it was so hot."
Now, thanks to sturdy protection from the elements provided by Event Base and Greg's addition of windbreak walls and beanbag chairs, the deck has been transformed into a welcoming communal retreat.
"They've been awesome," says Cheryl of the team effort.
"We were amazed," adds Denise. "They just came with a couple of big trucks and set it up, free of charge."
There are approximately 35 people housed at the campground in caravans and campervans, unable to return to their red-stickered homes and mired in uncertainty. Denise and Cheryl are happy to host; they're a logical choice, they say. From the very beginning, the community seemed to feel the same way.
As Muriwai residents evacuated to the surf club in the frightening wee hours of February 14, they found themselves at an impasse—the road to the club was flooded. Plan B quickly became to park at the nearby campground and walk over.
"We got the evacuation alert at 1:30am," recalls Cheryl. "So we got up, and there were all these lights coming up the driveway."
And in the morning? "We looked out, and there was a bloody caravan out there," she laughs.
Of course, the caravan was welcome to stay—it belonged, as it turned out, to a family that had just returned from holiday and still had it rigged to their car. And from that day onwards, says Denise, despite the campground having lost power in the storm, their doors stayed firmly open.
"People turned up, and we said, 'Come in.' When we have no power here, we have no toilets, no showers—nothing. We were bucketing the water into the toilets to flush them. But at least they had somewhere to go. Eventually, we got the word out that if you had a caravan or could borrow one, the campground was taking people in. And it just grew from there."
Now officially managed as temporary accommodation by Temporary Accommodation Services (TAS), the campground expects to have families staying for the next 3-6 months. The aftermath of the storm has cost Cheryl and Denise nearly their entire peak season, but their focus remains on their community.
"Some of them have left the area out of necessity," says Denise, "but most of them just want to stay close by. This is their community. It's not just their house that's broken—it's the whole community that's broken."
Now, the campground's new outdoor lounge is helping to lift the spirits of those staying there, much to the delight of Denise and Cheryl.
"The Sunday after the guys put it up, a local band put on a concert," says Denise. "They played some reggae music in the sunshine, and everybody came along, and it was really laid back and relaxed. It was something nice for the community."
The good vibes are flowing both ways.
"It's a good feeling for the team," says Simon. Although the team at Event Base "works pretty fast and hard" throughout the summer season, they never hesitate to put in more work for a community cause. "It's pretty amazing," he says.
Denise and Cheryl agree. "They're such awesome people, and we just couldn't thank them enough."
Anyone interested in contributing to relief efforts in the Muriwai area is invited to make a donation by direct deposit to the Muriwai Community Recovery Charitable Trust: 020108 0155100 02.
Roundabout Magazine
This article was published in Roundabout Magazine Issue 195 (April 2023).