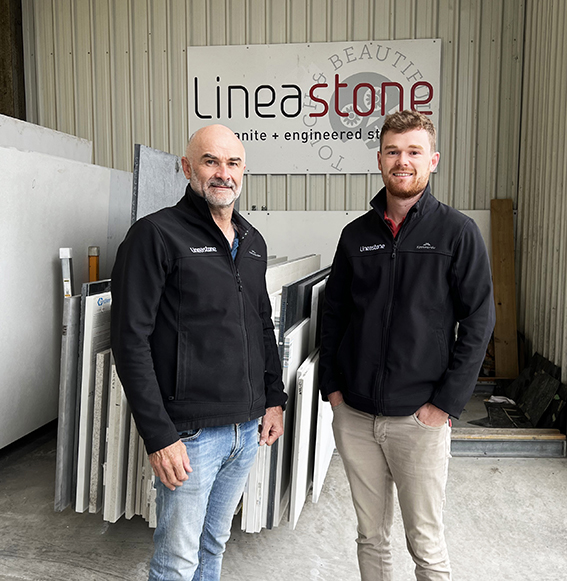 In 2008, Nick Sharp took a mighty leap. Seizing on an exciting opportunity in the market and keen to be his own boss, the former CFO and property developer founded kitchen benchtop manufacturer Linea Stone – without any hands-on experience.
"He trained himself up to do everything," says Benji Sharp, Nick's son, who has joined him at Linea Stone. Nick launched his operation with only one CNC machine – a specialised machine that uses digital technology to ensure precise cuts – and no clients. From there, it was a slow build that saw the owner immerse himself in his new craft. "He's always said that one of the best things that ever happened to him was when his only CNC operator left. He had to learn the machines in a really short space of time."
Fifteen years on, Linea Stone is one of the biggest fabricators of kitchen bench tops in Auckland, fitting over 1500 kitchens per year. The business also manufactures vanities, fireplaces, and other stone-related products. "We specialise in commercial fit-outs and big apartment buildings," says Benji, "but we also focus on home builders and work from the public."
The stone for each project is sourced from around the globe via trusted suppliers here at home. "We offer three types of stone," details Benji. "Natural stone, engineered stone (a man-made combination of epoxy and quartz), and ultra-compact surface, which is porcelain." China is a "massive source," he adds, and Italy yields "beautiful natural stone, like marble and quartz."
The team at Linea Stone are passionate about delivering a top-quality project, as evidenced by their investment in technology. The manufacture of benchtops and other stone products that fit flush to a wall is a process that requires exacting accuracy, and the business is dedicated to staying at the cutting edge – literally.
"We run super accurate machines," says Benji. "To create the template, we use a Proliner machine that basically maps out all the changes in the gradients of the wall, so we get a benchtop that fits perfectly." From there, the team creates a 2D model using CAD software, and the specifications are sent to one of their five CNC machines. "The machine does all the cutouts: the sink cut outs, the hob cut outs, all the join cut outs, exactly how we've mapped it in the software. It will cut, to a fraction of a millimetre, how we want it."
The business's most recent purchase was a five-axis water jet, allowing the team to more efficiently cut porcelains and natural stones to a more accurate level. "They're very expensive to run, but it took us to the next level."
The team itself is a tight-knit group of 17, which includes five installers, six factory workers, five people in the office, and one person who does the templating. But, notes Benji, "we're not restricted to those positions. Everyone can float around to cover different jobs. A couple of us up there in the office can also template, and a couple of the factory boys can install. This was a big factor when Covid came around, because you have to be without someone for two weeks."
Another unique aspect of the team is what it doesn't include: sales people. Instead, the business relies on the quality of their work and repeat business. It's a formula that works well for both Linea Stone and their customers. "For our good customers, there's no real 'too small of a job' that we would do for them," says Benji. "From one vanity to a massive apartment block. At any point, we might have six commercial jobs going on at one time, and that might range from 130 apartments to five townhouses."
A people-centred culture has also kept the business going strong. Describing the team's dynamic as "like a family," Benji is firm on the leadership's attitude towards their people. "We like to grow and retain our team, and take care of people. We've got a really low turnover. Some of our guys have been here over ten years."
Environmental sustainability is also top of mind for the business. Not only does their use of digital technology hardly leave a paper trail, but they have their own purpose-built water recycling facility on site at their location on Patiki Road. Benji estimates that they recycle 500 litres of water per minute, ensuring that their manufacturing process doesn't put a strain on the municipal water supply. Loving their Avondale location as much as they do, Linea Stone is proud to do their part for the environment in their community.
"I couldn't imagine working in our field anywhere else than Avondale," says Benji. "It's just so easy to get everywhere, especially with all the jobs that we're doing out west – everywhere is accessible. We just love it. Wouldn't work anywhere else."
The team at Linea Stone welcomes you to get in touch at any time to discuss your own project, big or small, by emailing [email protected].
Roundabout Magazine
This article was published in Roundabout Magazine Issue 190 (October 2022).