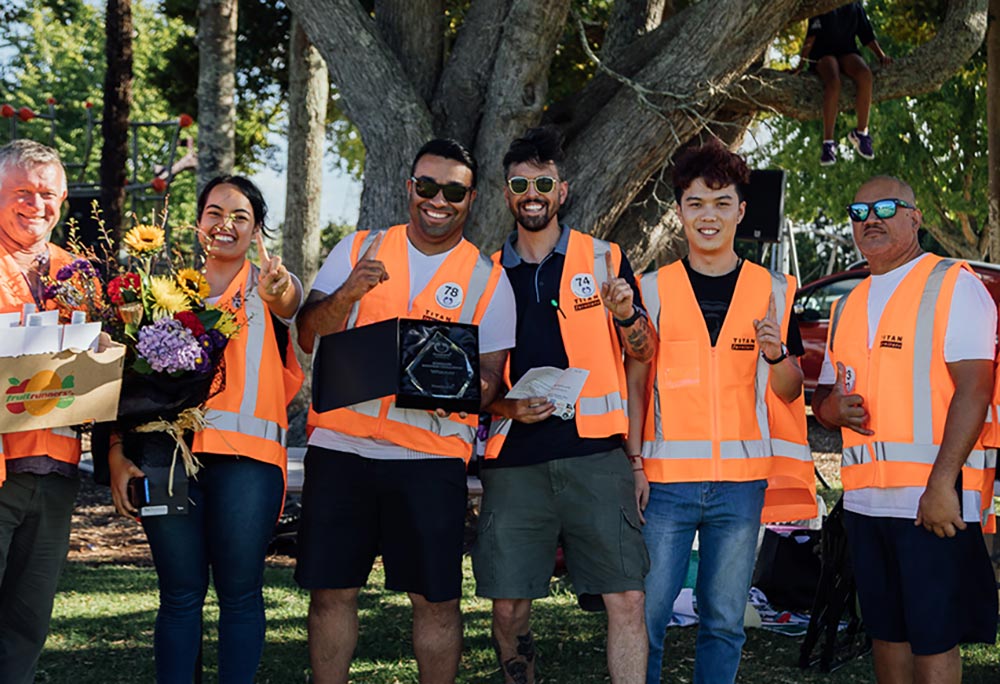 The Rosebank Business Association was first mooted by business owners in the region back in 2002, following a shared need for better security in the area. Almost 20 years later, the diversity of the Association's achievements with its members is impressive, including its latest commitment to growing workplace wellbeing.
It can be challenging to invest in workplace wellbeing amidst the everyday demands of running a business, but research shows that businesses that do, are more financially successful.
Recognising this, the Rosebank Business Association (RBA) started the Rosebank wellbeing initiative in partnership with Healthy Families Waitākere in 2020. They wanted to collaborate with Rosebank businesses to create workplace wellbeing solutions for the whole of the Rosebank business community. Thought to be a New Zealand first, the project gained further momentum as part of the wider Covid-19 recovery efforts.
Healthy Families Waitākere facilitated a co-design process alongside Business Lab to help understand the challenges and opportunities for workplace wellbeing in the area. This started with forming a core leadership group with representatives from Rosebank businesses, together with participants from government and community agencies.
Healthy Families Waitākere Lead Systems Innovator Zaynel Sushil explains the process. "We set out to understand the main causes of stress for workers and co-created a shared vision and roadmap for what growing wellbeing in the Rosebank business community could look like. We then took this through a testing phase where we were able to amplify the worker voice in Rosebank and validate some of our assumptions. This led us to a number of well-informed opportunities to support employee health and wellbeing."
The second year of the project (2021) saw a reset for the collaboration between 34 key business, community and government stakeholders and there is now a clear roadmap in place. The core leadership group's ongoing role is to champion and guide the wellbeing initiative and create a community of practice where business leaders can share knowledge, resources and tools to support employee wellbeing within their workplaces.
"The most significant achievement during this period was the RBA board agreeing to commit both financial and staff resource towards the wellbeing roadmap. They also backboned the Rosebank wellbeing initiative, agreeing in principle to include wellbeing as a key focus within their broader strategy. The RBA is the first business improvement district in Auckland with this intention and this kaupapa is contagious in a good way, already sparking interest from neighbouring business associations," adds Zaynel.
A number of initiatives have been implemented as part of the wider collaboration, including a Wellbeing Business Challenge event which engaged 160 workers across 20 organisations and health checks that were available for all workplaces, with a longer-term intention to increase uptake of this service in the business community. Over lockdown, 647 workers from Rosebank were encouraged and supported to get vaccinations through the RBA in partnership with Pharmacy Care Group.
Between June and July, Healthy Families Waitākere worked with the RBA to implement the first Rosebank Wellbeing Survey, with the intention that the findings and insights would help inform the next phase of Rosebank's wellbeing movement.
The results from the survey have found most employees in the business community preferred greater work life balance, supportive management styles and better workplace culture. Positively, 71% of the respondents believed their workplace does enough to support their wellbeing in Rosebank.
Kim Watts, Executive Engagement Manager for the RBA, says the survey provides good baseline data on wellbeing, recognising the important role wellbeing has to play in overall personal and business success.
"We wanted to know what things are really affecting employee health and wellbeing. We've been through a lot with Covid-19 lockdowns so this survey was timely and a good way for us to check in and see how the RBA could support its members.
"The findings provide a further important step forward in shaping how broader wellbeing strategies can be delivered across the business district. Looking to the future, understanding the main stress factors in the community gives us an opportunity to find new and innovative ways to address them and help our members continue to build wellness and health-promoting strategies for their people."
Source: NZ Business Magazine