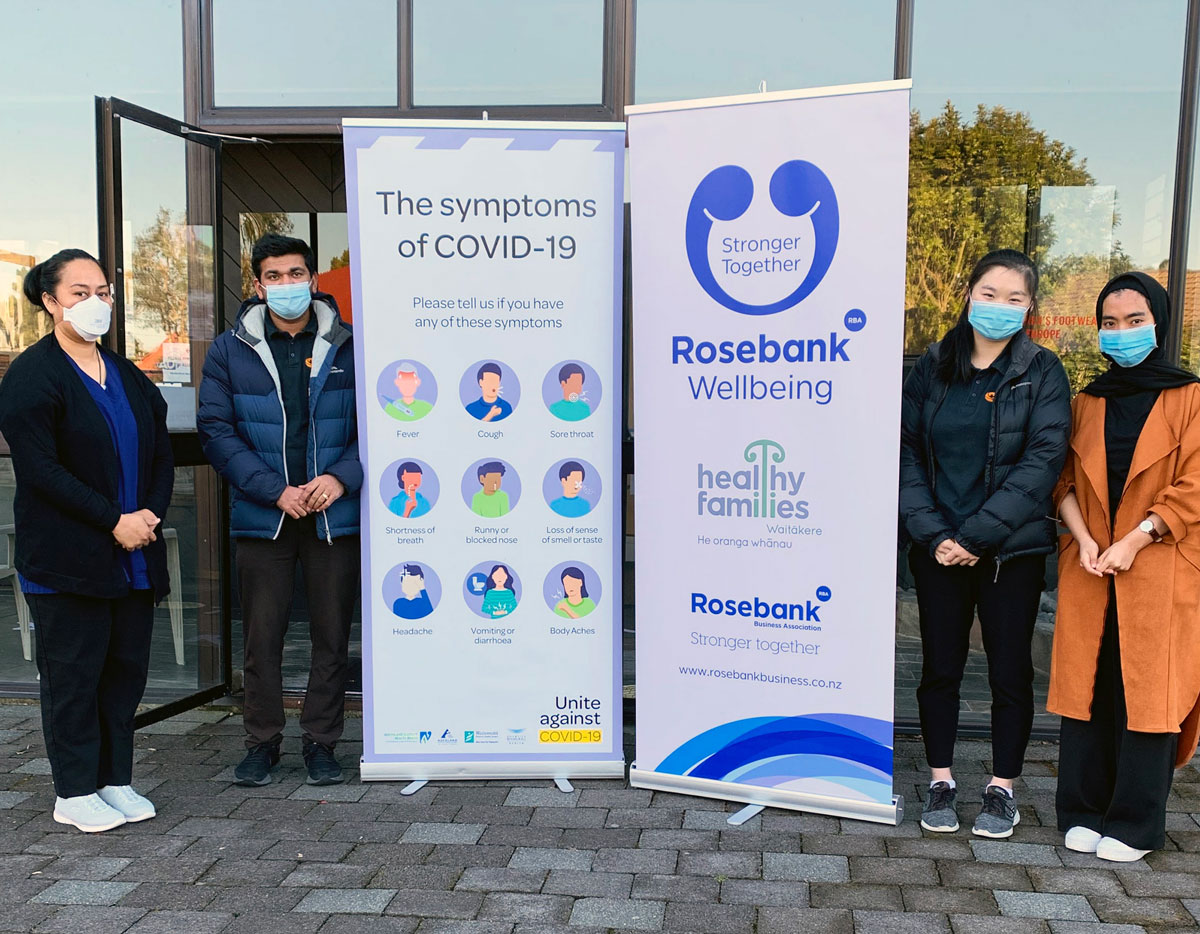 Local workers receiving a text to "Book my vaccine" would have discovered that when they went onto the government website the closest one to their Rosebank workplace was either Epsom or the back of Henderson.
Thinking that there would be a lot of other local Rosebank workers in the same predicament the RBA tried a few different ways to see if we could get a vaccination site set up in Rosebank to no avail. Long story short – Odette from Allegion put us onto Rowell V.Gorayeb from Pharmacy Care Group and we organised for his team to set up an outreach site based at the Encounter Centre in Rosebank Road for the 7th September 2021. Oh how 'the best-laid schemes o'mice an'men.." are thwarted by a Covid-19 lockdown!
Rowell managed to find us a secure site at return2Health based at 105 Great South Road, Greenlane and to date 46 local Rosebank businesses have put forward a total of 647 workers and their families to have the covid vaccination.
We tend to take for granted the front-line workers who are helping us, and so Rowell has given us an insight into who Pharmacy Care Group are.
Pharmacy Care Group is one of the leading providers of pharmacy and medication services in the community for the aged care sector throughout Auckland and in the Bay of Plenty. Their consistent commitment to high ethical standards of safety and efficiency in service earned them the trust and confidence of their patients and healthcare partners. Its owner and director, Amrit Ram, an accomplished clinical pharmacist himself, believes that there is more that a pharmacist can offer to the patients they serve beyond dispensing medications, which is why Pharmacy Care Group is among the first to take the initiative at helping the Ministry of Health in its Covid vaccine roll out. They became the first pharmacy in the country to be authorised to do Covid vaccinations, which goes back as early as May this year, beginning their work with the vulnerable population groups and the elderly.
Working alongside the Auckland DHB, they help spearhead the work of ensuring that elderly residents among rest homes are prioritized and vaccinated on time. Amidst level 4 lockdowns, their team have been going all over Auckland providing Influenza and Covid vaccinations to high-risk patients and healthcare facility workers. For almost a decade, this has been the work that Pharmacy Care Group has been consistently performing, which has become more urgent and critical in the face of a global pandemic.
At present, with a solid team of 15 Pharmacist and Nurse Vaccinators and twice the number of administrators, Pharmacy Care Group has done more than 30,000 Covid vaccinations across Auckland and the Bay of Plenty. That number continues to grow with their unwavering commitment to help protect New Zealanders as they now cater to the wider population. It has been one of their greatest pleasures to have been given the opportunity to render this service to the members of the Rosebank Business Association, all their employees and their families and be part of the efforts to keep our workplaces safe and help keep businesses running.
Rowell says "The success, however, of the Covid vaccination programme would not have been possible without the support and initiative of all the Rosebank business employers and workers led by the tireless efforts of the RBA's Executive Engagement Manager, Kim Watts. It is through these meaningful collaborations that further motivates the Pharmacy Care Group team to not only deliver, but to make sure that they give the highest level of pharmacy services at all times".
With the first round of vaccinations completed, planning is already underway with the 2nd vaccination to be held at the Encounter Centre – 495 Rosebank Road on Wednesday 20th October 2021.
I would like to thank Rowell and his dedicated team of helpers for their diligent effort and the professionalism that was displayed in helping our local business community.
Roundabout Magazine
This article was published in Roundabout Magazine Issue 179 (October 2021).