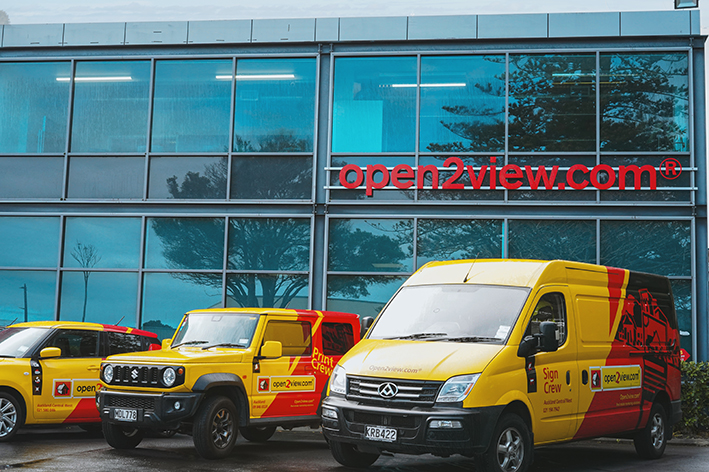 Successful real estate agents know that to attract potential buyers stunning property photos are a must. But what use is the perfect image if it can't reach the market?
That was the challenge faced by Open2View founder Chris Bates in 1999, when he was working as a real estate photographer. The demand for high-quality photography was already sky high, and he had seized on the opportunity to start his business, bring people on board and begin franchising. But Chris soon realised there was no easy way to deliver his eye-catching work to prospective buyers. Not only that, but the process of creating engaging video tours was long and laborious, and involved stitching together photos by hand.
Thinking outside the frame, Chris launched a website and began posting online. He purchased one of the first virtual tour lenses that emerged from the United States, and in doing so, launched a culture of people-centred service and innovation that remains strong today.
Open2View now counts over 150 franchises across New Zealand and Australia, each working with real estate agents to provide all their marketing needs. The services on offer include professional photography (including dazzling twilight photos), high-definition video, 3D HomeView and 360˚ virtual tours, floor plans, aerial photography, real estate sign boards, and print services.
"Everything agents need to market a property or themselves," says Maria Sherwood, Digital Marketing and Communications Manager. "Selling a house is pretty stressful for a lot of people. We aim to make that process easier by providing them with great marketing materials."
The vast majority of Open2View's clients are licensed real estate agents selling residential real estate, but they also provide services for private sales, rental listings and corporate projects. They even shoot the entries for the Registered Master Builders' House of the Year competition.
The company's newest innovation is a step up on a familiar service. 360˚ virtual tours have long been a popular marketing tool, but Open2View has developed their own. The tour is built on the floor plan of the property, so prospective buyers can use the plan to navigate through the house. Virtual tours have been particularly popular for commercial properties during Covid, as they allow both overseas and Kiwi buyers to get a full, detailed and contactless tour.
"We've constantly got new products and new technology coming out," says Maria. "This means that franchisees often drop by the real estate offices to see what's new and coming up."
But innovation and new technology alone aren't responsible for Open2View's success. The personal touch and having face-to-face time with agents is essential.
"We like to call our people 'media specialists,'" says Maria. "People think that we're a photography business, but really, it's providing a service. The way we're successful is by helping the real estate offices and their businesses be successful."
Franchise owners primarily work Monday to Friday (with the occasional Saturday shoot for top clients) and enjoy the freedom to manage their own time. During slower periods, franchisees will often take advantage of the lull to build essential relationships with their clients and drum up business. "No one day is the same as a franchisee," says Maria. "You could be shooting a 2-bed rental and then a multi-million dollar 6-bedroom house. You can be really structured in your day, but be flexible and have variety, too."
The head office on Rosebank Road is a close-knit team of 14, but the entire organisation is wide reaching. The franchises are supported by area managers, and they stay in touch with catch-ups and team meetings within their areas. Historically, the full team has enjoyed an annual conference in either New Zealand or Australia, an event that was put on hold due to Covid and that they hope to resurrect next year.
Maria has worked for the business at head office for eight years, but many have been there a lot longer. She knows of at least three business owners who have been with the company for over 20 years. "It's the kind of franchise where people like to stick around."
"And," Maria adds, "there's a lot of helping." Community spirit between the franchisees extends across the ditch, with photographers regularly swapping tips, techniques, and ideas. "Everyone's always ready to jump in and help each other out."
With demand for their services still red hot, Open2View is on the hunt for more franchisees. "We're recruiting pretty hard at the moment," says Maria. "We're looking for people who want to build their own business."
Photography experience isn't essential, although it's good to have an interest, but an aptitude for building relationships and proving outstanding service is. The company provides full and ongoing training, and they invite anyone who might be interested to check them out online and join their bi-weekly webinar to find out more.
Maria is passionate about helping businesses succeed, as anyone considering a franchise should be. "It's not just about going and taking photos," she says, pointing out that anyone with a smartphone can do the same. "It really is all about relationships."
Find out more about Open2View's services and franchise opportunities by visiting them online at open2view.com.
Roundabout Magazine
This article was published in Roundabout Magazine Issue 189 (September 2022).