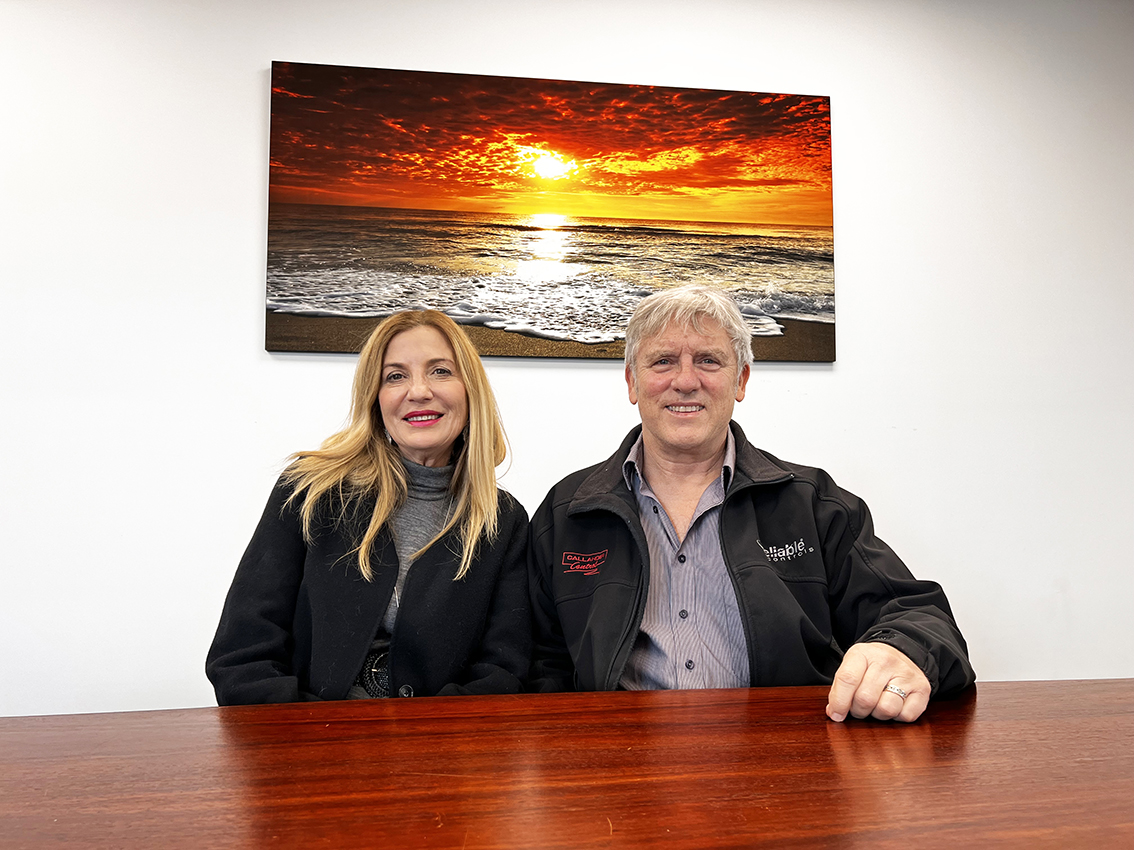 When John Callander founded Callander Electrics over 30 years ago, he wanted a career that left time for his creative pursuits.   
"John started the business in 1990," explains Kerry-Marie Callander, John's wife and Callander Group Business Manager. "He decided that he'd like to work his own hours because he's also musician." Based out of his Grey Lynn home, one of John's first jobs was – fittingly – upgrading beloved Ponsonby Rd music venue The Gluepot Tavern. Thirty years on, his drive and hard work – along with the mahi of his equally dedicated team – have grown Callander Electrics from a one-man operation into three distinct businesses within the Callander Group.
"We're very much individual companies, just working under one roof," says CEL Operations Manager Bruce Blundell. Each business within the Callander Group is a specialist in their own niche of electrical work.
Callander Electrics is contracted by building companies to deliver lighting, power, and electrical installations Low Voltage, High Voltage and Solar PV systems, with projects taking anywhere from three months to 2 years.
Callander Control are expert sub-contractors in E4M, which is shorthand for "electrical for mechanical," and building management systems BMS – think heating, ventilation and air conditioning.
Callander Electrical Services serves the likes of large and small businesses including industrial, residential, hospitality, hotels, Schools, University's and hospitals doing smaller projects, repairs, and maintenance contracts that flow down the pipeline from Callander Electrical. "Design and build" services are offered by all three.
"When one company is quiet and one company is busy, they do help each other out," says Bruce. "We share labour resources where we can."
The Callander Group's variety of services means they're ready to help with any and everything, Auckland-wide. The team starts early, with most working from 6:30am to 4:30pm or arriving on building sites ready to start with the sun. They also provide a 24/7 on-call service.
"The smallest job could be as simple as changing a light, or fitting a power point or a water cylinder element," says Bruce. And at the other end of the scale? "We've done the largest warehouse in the Southern Hemisphere," he says, for which they supplied the electrical for mechanical and building management systems. "There's not many companies in Auckland that can do the variety and size of the jobs that we do."
The Callander Group is fairly new to their offices on Rosebank Rd; they're still renovating the lower floor of their open plan offices, laying new carpet and creating a bright, welcoming feel. Sharing one space among the three businesses has brought the teams closer together and supports the group's people-centered approach.
"You've got to look at people as a whole," says Kerry-Marie, "with lives and other personal things. That's important. Our staff's family is important as well – we see it as a family business that way."
"It's not all about work," agrees Bruce. "The guys all socialize together and we've got a very active social club. Everyone gets along really well."
"It does feel like a family sometimes," Kerry-Marie adds. "In fact, I'm Mum, and John is Dad."
Across the group, the team is 100-strong, with most ranging in age from mid-20s to late 50s, although there's plenty of room for fresh talent. In a largely male-dominated profession, gender diversity is also top of mind, with a focus on hiring both male and female apprentices.
"We have a big emphasis on training apprentices," says Bruce. "A lot of trainees and apprentices come through as brand-new 17 and 18-year-olds who stay for ten years and work their way through the business."
It's not all as easy as changing a light bulb, of course. Like many businesses across New Zealand and around the world, the disruptions caused by the Covid-19 pandemic have created a labour shortage, rising costs, and long lead times for receiving supplies.
"You've got to be on your game," says Kerry-Marie. "It's very competitive at the moment. Quality, good service and good management are so important, you've got to be very organised at planning, ordering materials ahead and being onto it. Also health and safety is very important."
As they rise to meet these challenges, the group's grit and tenacity continues to pay off. There's a lot to be proud of – foremost, says Bruce, the quality of their jobs.
"Also, the longevity of the business is something to be really proud of," adds Kerry-Marie. "It's a big thing."
There's also plenty to look forward to. Sustainability is an emerging focus; the group is taking on more green-star jobs and looking to get more involved with solar energy. In the short term, the Callander Group is enjoying settling into their new digs and participating in the RBA community, after joining a few weeks ago.
"It's been quite neighbourly," says Kerry-Marie. "Quite welcoming." And with all the industry around Rosebank Road, the Callander Group is ready to help with any and all electrical needs.
"Service and maintenance, anything electrical, wiring, air conditioning or lighting, even kitchens," lists Kerry-Marie. "No job is too small or too large. Anything electrical – we'll be there to help."
Come and meet the friendly team at the Callander Group from 8am weekdays at 326 Rosebank Road, or give them a call anytime, day or night, on 09 846 0154 or 0508 230 230
Roundabout Magazine
This article was published in Roundabout Magazine Issue 188 (August 2022).