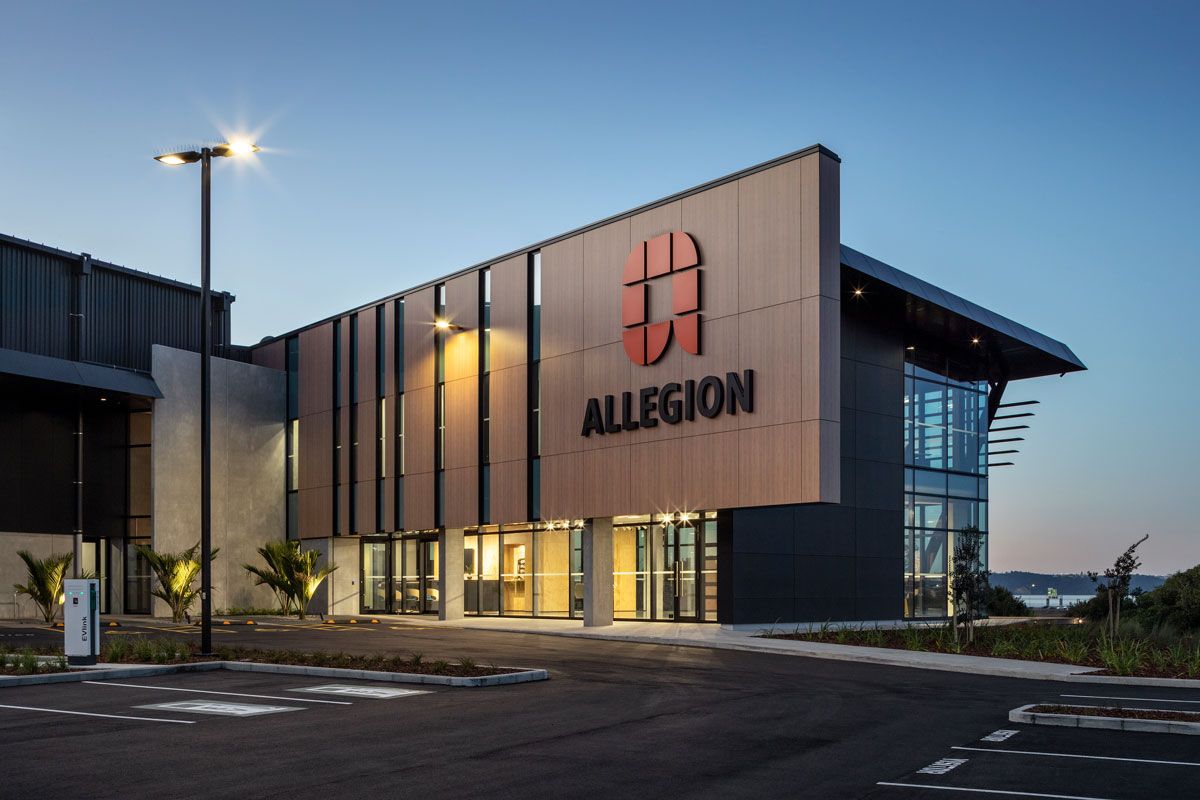 Allegion has been committed to safety and security since it began in 1908. The original design, the panic release bar, was one of Allegion's first products and it's been making a name for itself since. The company has continued to develop innovations in door hardware, locks, and electronic security. Everything from residential and commercial locks, door closers and exit devices, through to smart digital locks and access control. Allegion sells products in almost 130 countries. Allegion New Zealand's portfolio includes brands Brio, Briton, FSH, LCN, Legge, Schlage and Von Duprin.
Allegion's head office is based at 437 Rosebank Road. The old factory on the front site was built in the 1970's, however no longer met the needs and plans for growth of the business.
The new facility built on the rare site was completed in August 2021 and provides the team of over 100 employees with many convenient features. While the new warehouse footprint is smaller than the previous one, smarter design has meant Allegion now has 50% more pallet storage capacity space.
A showroom to display new product innovations, a large (100 square metre) training room, and meeting rooms equipped with full video conferencing capabilities are in the new space. As the team worked closely with architects, it was important a strong connection between the factory and office areas was achieved.
Operations Manager, Peter Hill, says they wanted the building to represent one team, one Allegion.
"The updated layout and more efficient systems of both the factory and the warehouse mean that collaboration among teams has never been better," he says.
Sustainability was important in the overall design of the building. Insulation, double glazing, low water-usage plumbing fittings, LED low- energy lighting with personal motion sensing, roof structures and external façade to reduce glare and solar gain are included in the building design. Looking to the future, electric car chargers were also installed for future fleets of vehicles.
Wellbeing of staff at Allegion has always been important and the new building presented an opportunity to develop staff spaces also. Showers, personal storage, and bike racks so employees can bike to work if they'd like, have been incorporated.
A substantial outdoor project saw Allegion plant over 11,500 native plants on the site. This mass planting was developed to encourage the return of wildlife and provide an impressive connection from the marine reserve to the outdoor recreation area.
Not only does the building look fantastic and provide an opportunity to showcase Allegion products in situ, but some great manufacturing additions have also been made.
An introduction of a fully automated gantry-type electroplating plant and a polishing shop are setting Allegion apart. Thanks to the new plant, Peter Hill says the Allegion team will be able to offer finishes on made-to-order products in less than two weeks.
"This will change production hugely. Prior to this new space and technology, it has typically taken in excess of six weeks for electroplated products to be made," he says.
To celebrate the opening of the beautiful new facility, the team opened the new facility and provided an appreciation lunch for architects, design consultants, the construction company, and key sub-contractors.
"The new facility has exceeded the expectations of Allegion's building project stakeholders and employees," says New Zealand Managing Director, Brendon Simpson. "The team displays a huge sense of pride in the new facility, taking every opportunity to show it off to their business acquaintances, family, and friends. They feel privileged to be part of this defining event in the history of the New Zealand business."
Roundabout Magazine
This article was published in Roundabout Magazine Issue 183 (March 2022).