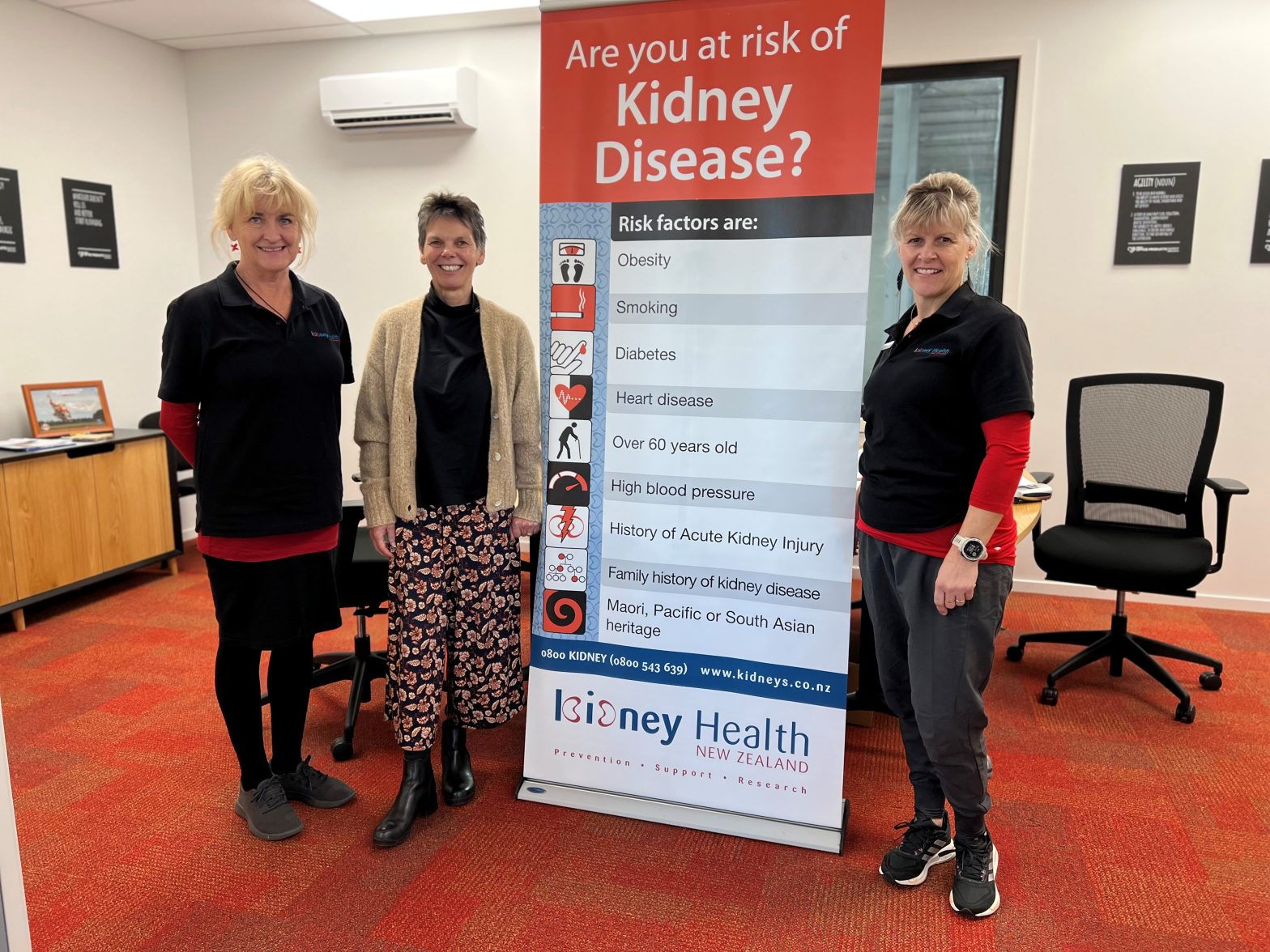 The Rosebank Business Association (RBA) continues to look for ways to improve the wellbeing of our Rosebank business community and was given the opportunity in June to work with Kidney Health NZ (KHNZ).
Nurse contractors Sandy Speedy and Chrissy Taylor for Kidney Health NZ came to Rosebank to raise awareness about kidney health and offered to provide free kidney health testing for our Rosebank employees on Monday /Tuesday 13th & 14th of June 2023.
The test was a small pin prick to a finger with the blood collected used to perform a Creatinine test – to check how well your kidneys are working along with the eGFR (estimated Glomerular Filtration Rate) which is the percentage of normal kidney function that you have. Blood pressure was also taken as 80% of people with kidney disease have high blood pressure.
The advantage of the instant results given to participants on these testing days helps motivate them to act as kidney disease is a silent disease with a lot of people unaware that they may be at risk.
Results are confidential but Sandy (KHNZ) was able to tell us that out of the 75 Rosebank employees tested over the two days, 10 of those people were advised to follow up with their GP or health provider to have further investigations and checks done. This is good news as this early detection may prevent further health issues which could lead to chronic health issues and or extended time off work.
Other good news stories entailed people making positive changes to their lifestyle by giving up sugary drinks and or losing weight. It was satisfying not only for themselves but also for both nurses from KHNZ who were able to show them that their efforts were positively reflected in the blood pressure, blood sugar, and kidney function test results they obtained on that day.
Both Sandy and Chrissy heard on multiple occasions from the Rosebank employees what a fantastic opportunity this was to be able to get a kidney health check offered through their workplace as it was very difficult for a lot of them to get to see their GPS.
We would like to thank Sandy and Chrissy from Kidney Health NZ for executing the Kidney Health Checks and broadening our knowledge, along with Direct Office Products Depot for providing the space for the tests to be carried out.