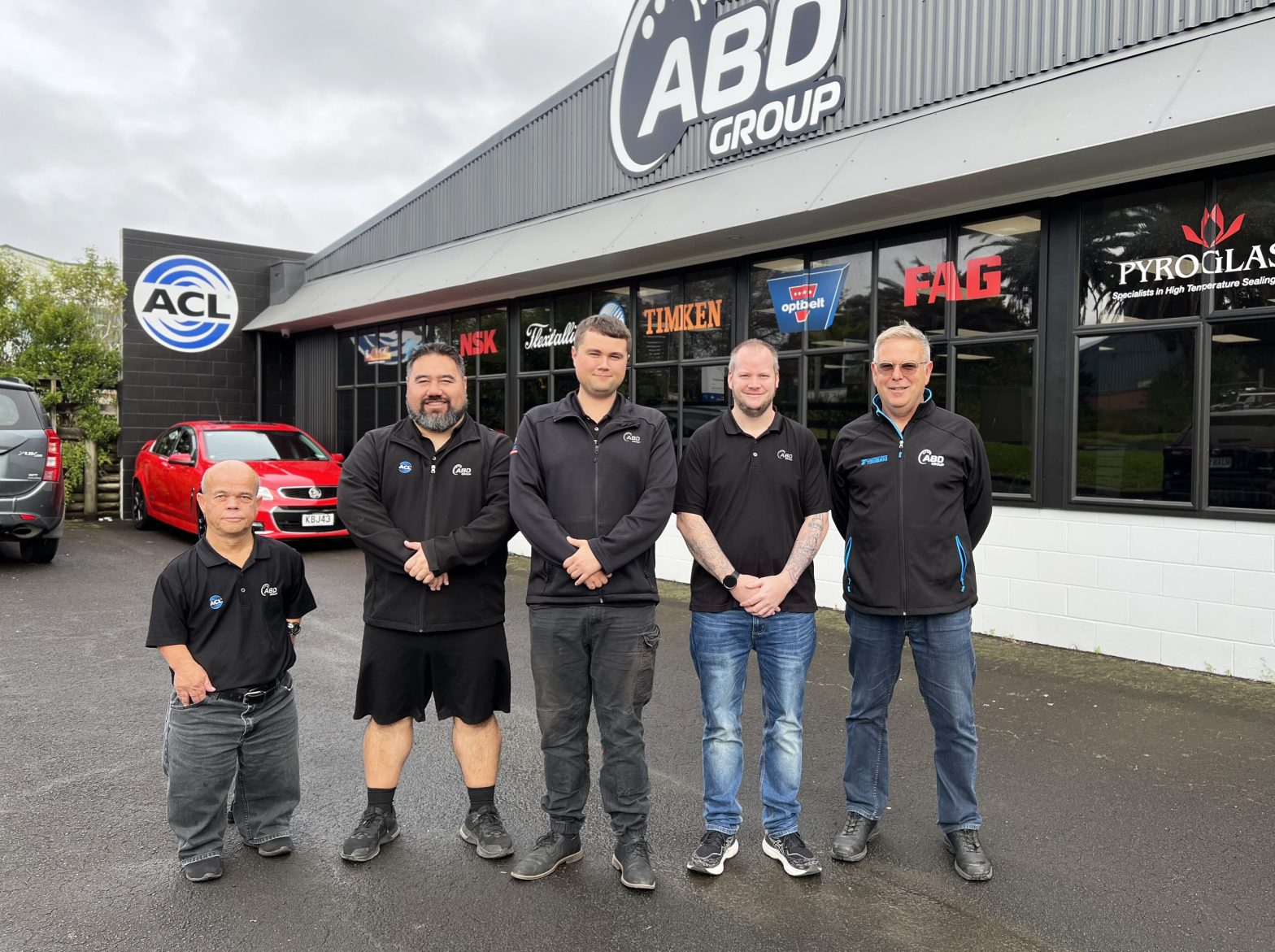 ABD Group has opened brand-new premises on Patiki Road, and they're keen to have you around to celebrate. On July 20th from 9am to 2pm, the team at New Zealand's second-largest engineering parts distributor is opening its doors to customers and neighbours alike for a look at their freshly renovated site. Bring your colleagues, friends and business cards to enjoy special opening day discounts, a business card raffle and a sizzling sausie from a one-of-a-kind BBQ.
"We've got an old Holden Kingswood with a BBQ built into the back of it," says Craig Dwerryhouse, one of the directors of this Kiwi-owned business. "We'll probably have a Mustang or two there as well."
Craig and Managing Director Grant Burrell could certainly be forgiven for doing a few celebratory burnouts. Since taking over ABD in its original form in 2013 (known then as Auckland Bearing Distributors Limited), they've grown from being "a bit insignificant" to the country's largest independently owned stockists of bearings, power transmissions, gaskets and seal products. With their latest acquisition, ACL New Zealand (formerly of Rosebank Road), they're now proud to add the manufacture of gaskets, sheet jointing, and metal shim to their offering. As the ABD Group website states: We have the right parts when you need them.
"We're excited to have ACL as part of the Group," says Craig. "Other than adding gaskets and specialised sealing to what we offer, there were obvious synergies with ABD. We're looking forward to the challenge of growing this part of the business."
The Group has customers from most big industries within New Zealand. "Around 30% of our business is automotive, and the remaining 70% is industrial. It's food and beverage, it's forestry, it's oil exploration… any industry that has parts that need to go 'round."
Originally established in 1977, the business didn't always enjoy such a wide reach. "We're a little bit of a David and Goliath story," says Craig. When he and Grant took the helm at ABD, their presence in New Zealand was dwarfed by big-name competition, companies that wielded multinational owners and long-held hooks into all the major suppliers. ABD's path to success angled steeply uphill, but Grant and Craig saw an opportunity to combine their strengths and create a Kiwi company to be proud of.
"Grant was the national sales manager at Auckland Bearing Distributors Limited," recalls Craig. "He's the guy with the relationships and connections and all the industry background and technical expertise. I was a lawyer, so I'm into strategy, the nuts and bolts of operations with the staff, and the legal stuff."
"However," he adds, "it's really our team that is the secret to ABD Group's success. At the end of the day, our team is the business."
In the beginning, Craig recounts, the big suppliers wouldn't deal with ABD Group. "We knew the only way we could turn that around was to grow."
ABD's plan was simple but effective: acquire smaller "mum and dad" operations across New Zealand who were struggling to compete but whose teams held a wealth of expertise. To better represent their new identity as a group, rather than a solely-Auckland-based business, Auckland Bearing Distributors Limited rebranded to ABD Group, and they set their sights on wrestling relationships with suppliers away from the big guns.
"The American multinationals have tried to retain that exclusivity with suppliers," says Craig, "and it's been a challenge to battle against them due to their size and power. They try to tie everything up, and that makes it hard. But if you battle away, you'll get to a reasonable size for suppliers to need you, too. That's what's happened with us."
Now ABD Group is enjoying relationships with all the major suppliers who weren't interested before, as well as attracting quality staff. "We really are known in the industry now," says Craig. "A lot of our growth was from taking and creating opportunities, and also Grant's connections in the industry. Now, by virtue of growing into the size we are, the big suppliers have a completely different attitude to us. We're 100% New Zealand owned, so we're basically the small, Kiwi-owned business that's hitting way above its weight."
But ABD isn't content to just fit into the market; they want to stand apart from the rest. Craig says that their smaller size ultimately gives them an advantage.
"We're flexible," says Craig. "The massive corporates can't move fast—when they do anything, it takes forever—but we can move quickly when we need to, which has been an advantage to us."
Another equally important component of ABD's success is the team they've built along the way. The group now has eight branches up and down the country, including Patiki Road, the head office in Albany, and locations in Wiri, Hamilton, Tauranga, New Plymouth, Wanganui and Christchurch. Each is staffed with knowledgeable people who are keen to track down hard-to-find parts or recommend one of the at least 70,000 products they carry.
"We've got an awesome team," says Craig. "We've got the technical expertise and we provide great service."
"There are a lot of staff members who have been with us for a long time, and we've got a flat management structure, so we do a lot through consensus. We're planning a conference in October to bring everyone together, and we'll brainstorm about the business and where we want to go. You get lots of good ideas from people."
ABD also connects with people through sponsorships: speedway cars, rowing, Westpac Helicopter, the Glenora Bears rugby league team, and the ABD Group Classic Yacht Regatta, to name a few. These, too, often come by way of suggestions from the team. "A lot of it is our staff coming to us and asking, 'Can you sponsor so-and-so,' and us going, 'All right, okay,'" Craig says with a laugh. "You know how it is—just had a weak moment."
Grant, Craig, and the team at ABD Group on Patiki Road are looking forward to welcoming the Rosebank/Avondale community at their opening day, and they warmly invite you to come along. Stop by anytime between 9am and 2pm on July 20th at 62 Patiki Road. For more information about ABD Group, visit their website: https://www.abdgroup.co.nz/
Roundabout Magazine
This article was published in Roundabout Magazine Issue 197 (June 2023).