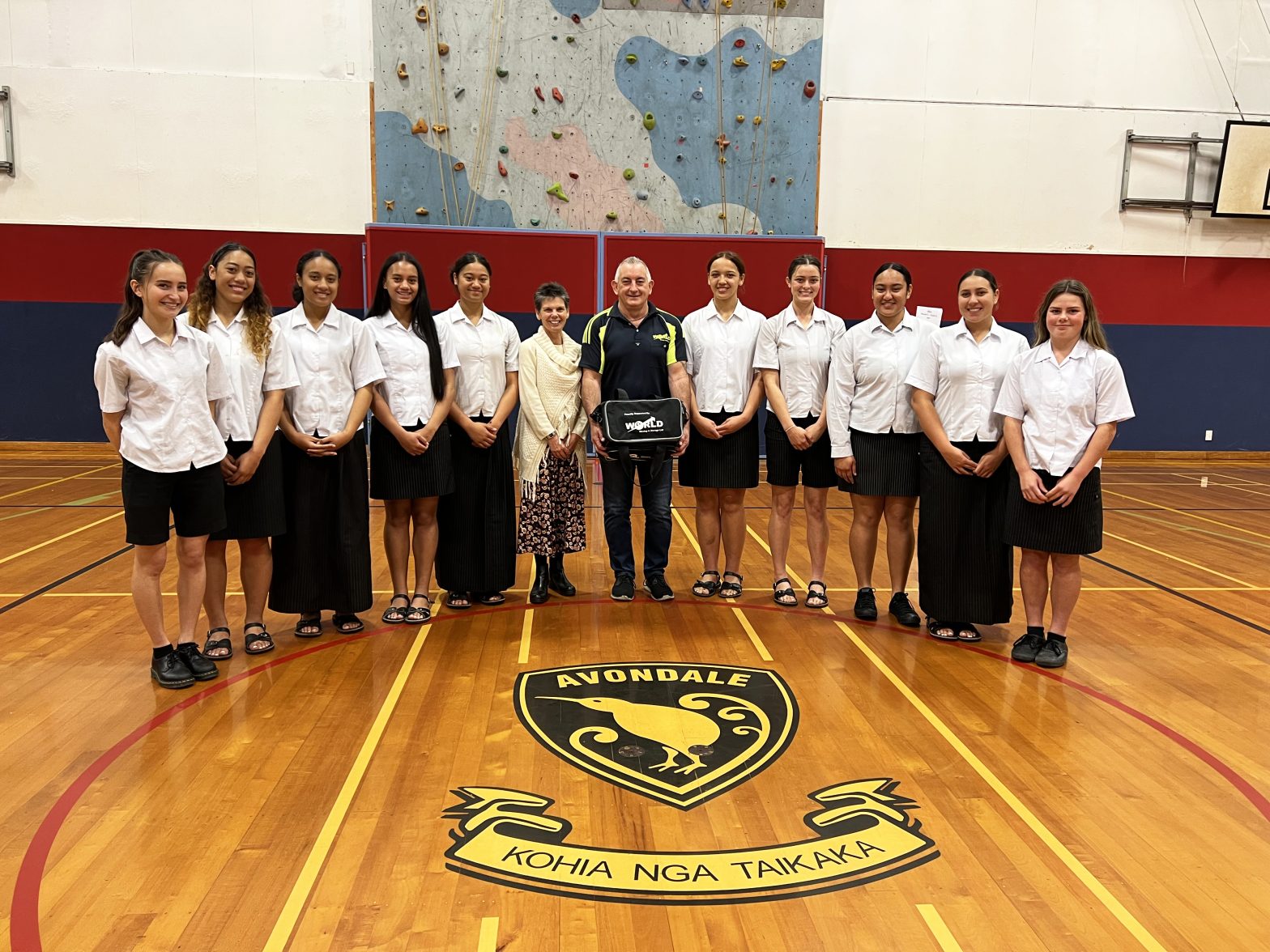 It is fantastic to see our local Rosebank businesses giving back and even more pleasing when it is for one of our own.
The RBA and our local business community value the worth of supporting our young people of the future and when the opportunity arose to do just that Bruce Reid from World Moving & Storage was in.
Avondale College's Premier Netball team has been on a roll this year and the bumps, bruises, aches, and sprains that come with playing top-level secondary school netball are now sorted, thanks to the donation of a well-equipped physio kit from World Moving & Storage.
Coached by former New Zealand netballer (and Avondale College alumna) Rachel Rasmussen, the College's top netball team has had a stellar season, won two Auckland Premier league netball competitions, and gained entry into the upcoming National tournament in October.
The Avondale College girls beat Mt Albert Grammar School in the final of the Premier West Auckland Secondary Schools netball competition in August. The next evening, they went on to collect their second title, scoring in the final second to beat Saint Kentigern College in the Auckland Lucca Trailers Secondary School Premier Competition, 35-34!
Having secured a place in the Upper North Island Secondary Schools (UNISS) tournament in September, the girls continued to show winning form, reflecting a season that was full of dedication, resilience, and heart. They placed 4th out of 128 teams – a significant achievement – which also meant they qualified for the FujiFilm New Zealand Secondary Schools National Netball Championships, in Porirua in October.
"The donation of the Physio Kit by World Moving & Storage in time for the UNISS competition was a timely and practical help," says captain Kaia Samuel. "We all used it," she says. "From strapping tape to ice packs, it was awesome to know whatever we needed was right there."
World Moving and Storage has been part of the Rosebank community since 2002. One of the owners Bruce Reid is as passionate about his sport as he is about his business.
Although football is his original sporting passion, Bruce has a long history with netball, starting as coach of his twin daughter's netball team in 1997. He is a qualified North Harbour Netball Senior Umpire, and for many years, volunteered his time to umpire at tournaments around the Auckland region, and at the Helensville courts on Saturday afternoons. He provided coaching support to his daughters' Kaipara College junior and senior netball teams and Kaipara Netball Centre representative teams. His half-time talk generally consisted of "the score is 0-0 so we start again" – no matter if his team was winning or losing.
Bruce led the Kaipara Netball Centre as President during the early-mid 2000s and was responsible for Kaipara being added back in as a stop on the North Harbour local tournaments schedule. A big believer in being an active participant in the community, he supports wherever possible. He would make sure players in the teams were all well-fed, with his 'world famous in Kaipara' banana chocolate chip mini-muffins, and when the Kaipara Centre desperately needed tomato sauce for a fundraiser, he managed to track down boxes of it.
Now as a business owner in Rosebank, he appreciates how the little things can make a difference, and that sometimes you just have to say yes and get involved.
World Moving and Storage are delighted to be able to support the Avondale College Netball Premier Team and know they will continue their local success to the Nationals in Porirua. Win or lose we are proud of your team and some wisdom passed on from Bruce…Make sure when you come off the court you have done the best you could have done as an individual and as a team…no regrets and no what ifs…make it so!
The Physio kit bag will be travelling with the girls to Porirua in October where they will take on the top teams in New Zealand.
We wish them all the very best!