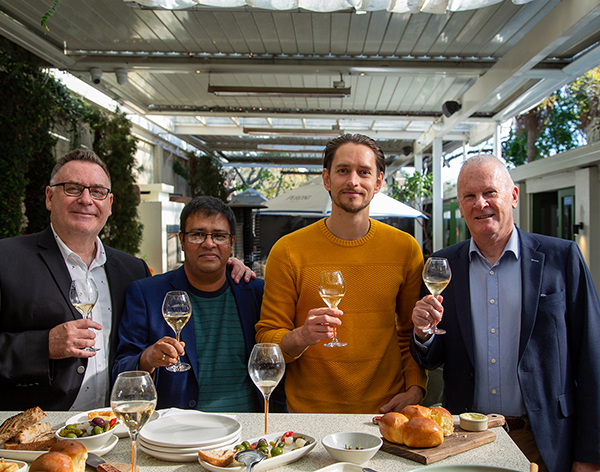 When commercial consultants Rob Erskine and Tony Rutherford decided that they wanted to go into business together (over a beer at their local), they knew that they needed to do something different – and that started with their name.
"While spending hours on your name and logo might seem a little trivial to some, we really wanted to get it right from the outset – we wanted something that would not only help us stand out from the crowd but that represented our values and personality – what we're all about," quips Tony.
Both Rob and Tony had spent 20+ in senior financial and commercial management roles within large organisations before both venturing out on their own as consultants, and the chance to build a brand that captured the essence of who they are and how they operate was too good to pass up.
"When people first meet us, nine out of ten will lead with 'CopperFox – that's a little different.. what's that all about?" says Rob, and while the name might seem a little unusual at first glance, it makes complete sense to the pair.
As a metal, Copper is flexible and reacts to its environment, and when exposed to the natural elements, it develops a patina or thin layer, which actually protects the metal underneath.
"Just as no two pieces of Copper age in the same way, no two businesses face the same challenges in growing and developing – you can't treat them with a cookie-cutter approach. It just doesn't work," says Rob.
"And in much the same way that Copper, as a trace element, plays an essential role in supporting the body to properly function, we strive to do much the same for Kiwi businesses – help support them to grow healthier and stronger," adds Tony.
Foxes on the other hand are, by their very nature, versatile and resourceful. They are determined, swift and nimble, evading hunters easily. They learn quickly and are adaptive problem solvers and masters of all.
According to Rob, there's a lot that businesses could learn from the humble Fox, "Our approach to any assignment is to incorporate a bit of that spirit and bring an agile, adaptive, problem-solving approach, tailoring our business support to each individual client's specific needs, while delivering outcomes that have enduring value for their business."
So, what about their by-line: "Commercial Intelligence for Better Business"?
Tony feels that they are differentiated by a highly customised approach to supporting a business that is entirely flexible and scalable, "Our support can be as little as an hour a month, to full time, or anything in between. We embrace technology utilising data analytics where appropriate to provide evidence-based insights that support our advice – that's what Commercial Intelligence for Better Business means to me."
Since establishing CopperFox, Rob and Tony have worked to broaden their offering and have been joined by Vlad and Santosh who lead the big data and digitisation teams respectively.
"We started CopperFox because we knew that what we could offer as a team was so much more valuable than what we could offer as individuals, and it's great to have Santosh and Vlad join us along with our wider network, in order to offer expertise across all business support functions," says Rob.
"It's a nice mix of youthful exuberance combined with extensive commercial experience. We're a sociable bunch that enjoy what we do, love the uniqueness of each challenge, but just as importantly, enjoy the lighter moments in celebrating our client's success. After all, life's too short not to enjoy the people you work with," adds Tony.
So why is the CopperFox offering relevant to Kiwi businesses today? Rob answers, "Aspirational business owners are currently facing unprecedented challenges that are unsettling, unpredictable and unrelenting. We feel we're equipped with the skillset, knowledge and experience to make a difference in helping businesses manoeuvre in or around that chaos while still remaining true to their longer-term goals."
"We're currently helping businesses that are experiencing supply chain disruptions, significant inflationary pressures, cashflow challenges, scarcity of labour with record low unemployment rates, along with the challenge of staying productive and profitable in an environment still disrupted by Covid", adds Tony.
While the team are based in central Auckland, they've been a member of Rosebank for a few years now (at least Rob has) and are keen to join other members at up-coming events that have been sorely missed in the last 12 or so months.
Roundabout Magazine
This article was published in Roundabout Magazine Issue 189 (September 2022).