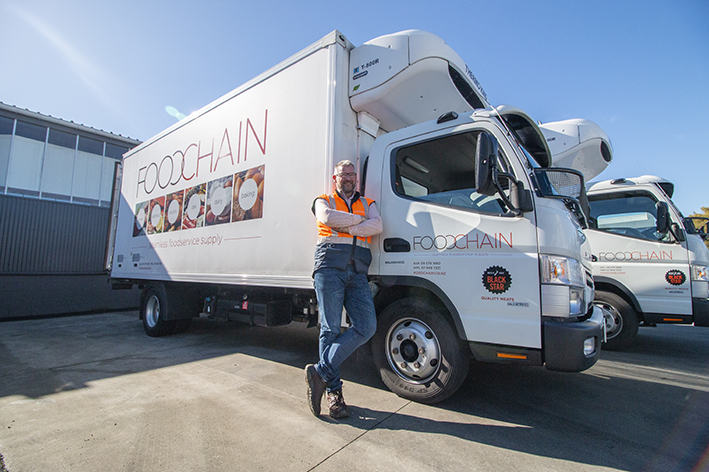 Nick Archibald is a man of action. Over 20 years ago, while running his own fish and chip shop in Christchurch, the hardworking entrepreneur couldn't believe how much fresh seafood was costing him. While some in his position might have accepted the status quo or bowed out of the business entirely, Nick decided to change things up. He began dealing with the fisheries directly, and soon after, his journey as a wholesaler began. In 2003, the Archibald family moved the base of operations for their growing business up to Auckland, and FoodChain has been going strong ever since.
FoodChain is a food service wholesaler supplying high-quality meat, poultry, seafood, deli products and dry goods to a range of customers, from local bakeries and cafes to large manufacturers. Their combined warehouse and office on Honan Place in Avondale is expertly equipped to store a wide range of foods; there's an in-house butchery, a fish room, a chicken room, dry goods storage, separate chilled and frozen storage, and a fleet of chilled and frozen trucks on hand to offer next-day delivery to customers from Whangarei down to the Bay of Plenty.
Nick still owns and operates the business with his wife, Director Jodie Archibald, and their close-knit team, including Chief Operating Office Andy Fuge.
"No two days are the same," says Andy, who runs on six coffees a day minimum and thrives on the variety inherent in the food service industry and his role at FoodChain. "We have customers who want our Premium AWHI portioned steaks right through to food manufacturers wanting 1,000kg of diced beef."
It's that adaptability and range of offerings, he adds, that has kept the business running throughout the Covid era—not to mention the team's resilience and their heart for community. As suppliers to the hospitality industry, FoodChain was hit hard by the lockdowns of 2020 and 2021. Early on, Nick partnered with Colour Community Managing Director Jo Stafford to work with iwi across the North Island and provide kai boxes to those in need, potentially saving lives—and FoodChain jobs—in the process. And the innovation didn't stop there.
"We quickly set up an online ordering platform for everyday consumers to order directly from us," Andy explains. Their online store, FoodChain At Home, provides "food service for foodies," and it paved the way for the recent opening of a retail site in the North Shore suburb of Pinehill: FoodChain Wholesale Meats. The in-house butchery team there is proud to provide restaurant-quality products for local customers' BBQs, parties, or meals at home. "We can also support local businesses with their food needs," says Andy, "whether it be catering for functions or offering meat packs and products for fundraisers."
With over 85 team members across the business in roles varying from night shift pickers and packers to butchers, truck drivers and office and sales teams, there's plenty of variety within the FoodChain team, too. "We are a very hands on, can do, adaptable team," says Andy, who himself can be found doing legal or governance work one day and driving a truck the next. "No task is above or beneath anyone. I love that about FoodChain and my role in it."
Now that the New Zealand hospitality industry is slowly returning to normal, demand for FoodChain's top-notch service and quality product offerings is picking up—and that means there's always room for fresh faces. "A bunch of the team have been here for years," says Andy, "and as we've started to grow again post the lockdowns, we've quickly brought on more new team members. We're always on the hunt for team members in the night crew and Class 2 drivers."
Whatever the role within the FoodChain team, and whatever the customers' requirements, the number one goal for this homegrown New Zealand business is to meet their customers' needs—if not exceed them. "Seamless food service supply" is the company's slogan, and as they continue to grow, quality service remains firmly at the top of their priorities.
"Local businesses can buy any of their food needs from us, from our online shopping for individuals living and working locally to businesses needing food events or catering," says Andy. He welcomes you to explore FoodChain's offerings and career opportunities on any of their websites below, and to get in touch with your food service needs.
Roundabout Magazine
This article was published in Roundabout Magazine Issue 186 (June 2022).