About this business
Are you a stressed out business owner or CEO, with no time for yourself or your family, and you're looking for a better way to run your business? Is your business stagnating, or not growing as fast as you'd like? Or perhaps you're growing rapidly, but you're working day and night to keep the wheels from coming off? Maybe you're considering a business exit down the track?
If so, you're not alone. RGM Consulting works with mid-market ($3m – $100m) business owners and leaders who have high growth ambitions and are looking for effective tools and best practices to grow their business. RGM Consulting are certified with the internationally renowned Scaling Up growth system, used by over 70,000 companies worldwide to transform their business and deliver exceptional results.
We help our clients to get their team on the same page, aligned and executing a clear business strategy which differentiates them in the market, and drives profit and enterprise value. Even better, we have fun together along the way.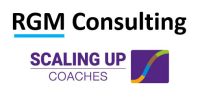 RBA Partner
RGM Consulting Ltd is an official Partner of the Rosebank Business Association. Read about RBA Partners.